---

Semi-FinishedHouse Delivery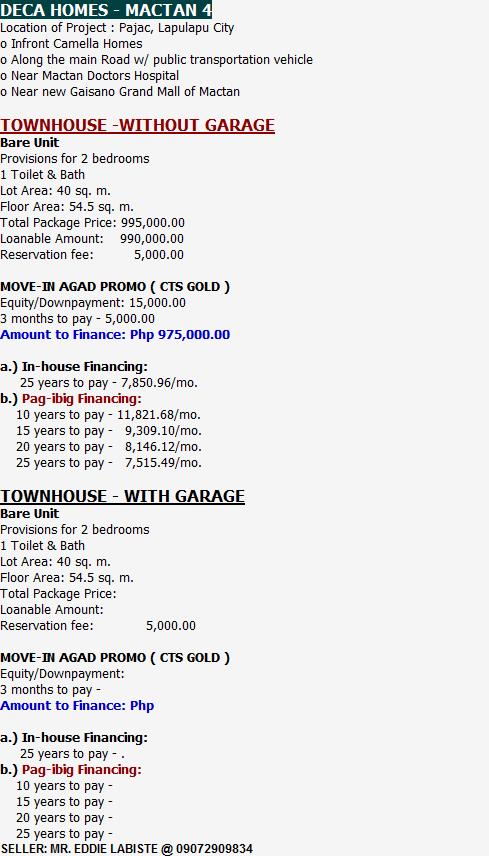 House Features:
Model : Townhouse, 2-Storey
Structure : Pre-Cast Concrete
Wall Interior : Unpainted, Smooth Cement Finish
Wall Exterior : Painted Smooth Cement Finish
Floor : Plain Cement Finish
Ceiling (2/f)
Eaves & Fascia : Bended Colored Steel
Windows : Aluminum Jalousie w/ Glass
Door : Hollow Core, Flush Type
T&B Floors : With Tiles
Wall : Plastered with 0.60m H Tiles
Toilet : Flush Type
Lavatory : White
Kitchen Counter : With Tiles
Kitchen Sink : Pre-Fab Concrete Sink
Stairs : Concrete
Roof Framing Steel Purlins
Roofing Colored Sheet, Gauge 28
Gutter
Front : False Gutter, Colored Steel, Spanish Design
Rear : None
Water Lines : PVC Pipes and Fittings
Water Connection : Separates Charge
Electrical Lines : Complete
Electrical Connection : MECO, Separate Charge
Subdivision Features:
Concrete Roads
Concrete Curbs & Gutter
Underground Drainage System
Entrance Gate with Guard House
Basketball Court
Chapel
Multipurpose Hall
Commercial Area
Each Phase Provided with:
*Ample Area for Community Facilities & Open Space
Perimeter Security Fence
Centralized Water System w/ OH Tank

AREA DETAILS

Security This property is in a gated community with
24 hour security.
Neighborhood Area Urban residential
Proximity to most business district of Lapu-lapu City, Cebu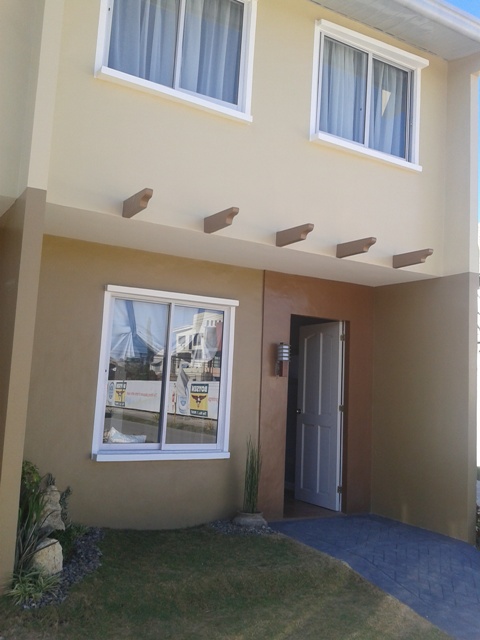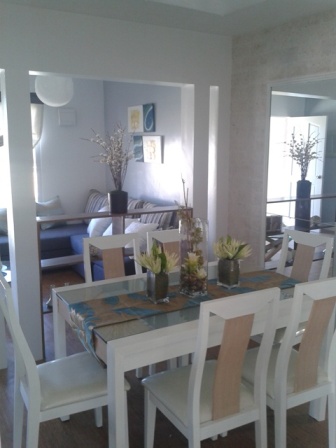 Requirements For CTS Gold
1. 2 pcs. Valid ID (Photocopy)
2. 4 pcs. (1x1 pictures)
3. Pays Php 5,000.00 reservation fee
4. Birth Certificate (if Single) / Marriage Contract (if Married)
5. Proof of Billing address (water,light and mails)
6. Proof of Pag-IBIG membership
7. Residence Certificate (Community Tax)
8. Checking account; required 50 Postdated Checks with signature only
9. Latest 1-month Pay slip/or proof of other income and/or assets
10. Required seminar every Wednesday 4-6PM; Saturday 1-3PM at 8990 Office

For Overseas Foreign Workers (OFW)
1. Requirements 1-8
2. Job Contract & Passport.
3. Special Power of Attorney (SPA) for person who will represent youself.

For Self Employed/Professional
1. Requirements 2-8 if applicable
2. PRC ID and PTR
3. Latest ITR with Financial Statements
4. Business Permit, DTI and SEC
DECA MACTAN 4 UPDATED AS OF DECEMBER 10, 2012
COMMON MOVE-IN FEE EXPENCES

1.) Water Connection Fee - Php 3,750.00
( payable to Deca Office )
2.) Electric Connection Fee/Meter Deposit - Php 3,000.00
( payable to MECO )
2.) Electrical Materials - Php 3,000.00
( payable to Deca Office )
TOTAL CASH OUT AMOUNT: Php 13,250,000.00

HOUSE IMPROVEMENTS ESTIMATE EXPENCES:

Labor & Materials for tiling work @ ground floor
Estimated Cost: Php 10,500.00

Labor & Materials for 2nd floor partition for 2 bedrooms
Estimated Cost: Php 15,000.00

Labor & Materials for ceiling partion @ 2nd floor
Estimated Cost: Php 5,000.00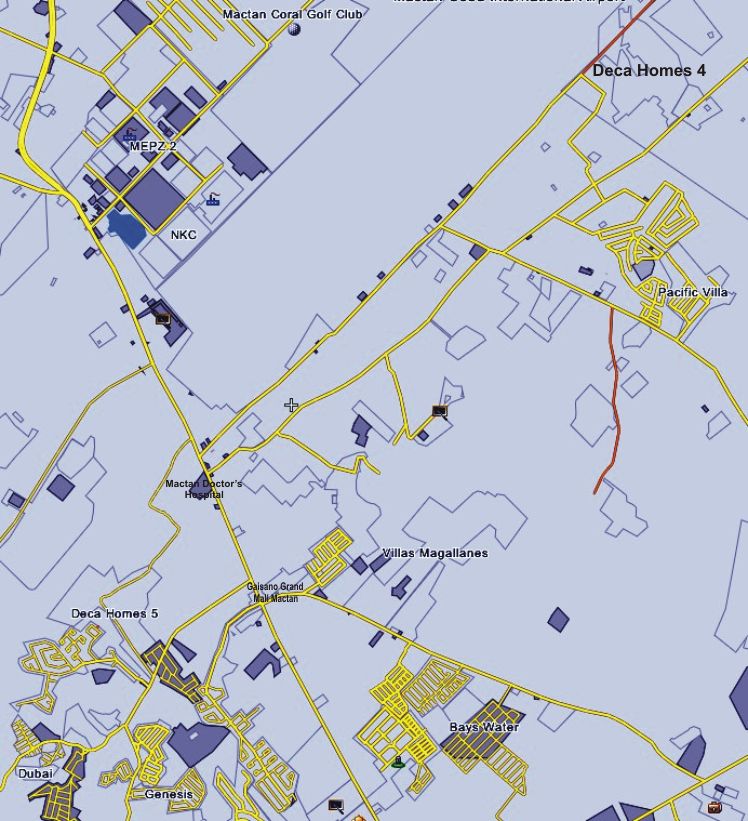 FOR AN AVERAGE EARNER FAMILY INCOME OF LESS THAN PHP 30,000.00 PER MONTH, DECA HOMES MACTAN 4 AND 5 PROJECTS IS BEST FOR YOUR PLANS TO AQUIRE HOMES. THE FLEXIBILITY OF TERMS OF PAYMENT ARE DESIGN TO FIT YOUR BUDGET AND THERE'S NO OTHER DEVELOPMENT OF ENTIRE CEBU OFFERING LIKE THIS. IF YOU THINK YOU ARE QUALIFIED AND RESPONSIBLE ENOUGHT TO PROVIDE DECENT HOMES FOR YOUR FAMILLY, PLEASE DECIDE NOW. OTHERWISE YOU CAN'T OWN ANYMORE A PROPERTY WITH HAVING GOOD LOCATION, VERY AFFORDABLE AND QUALITY HOMES.
DECA MACTAN 4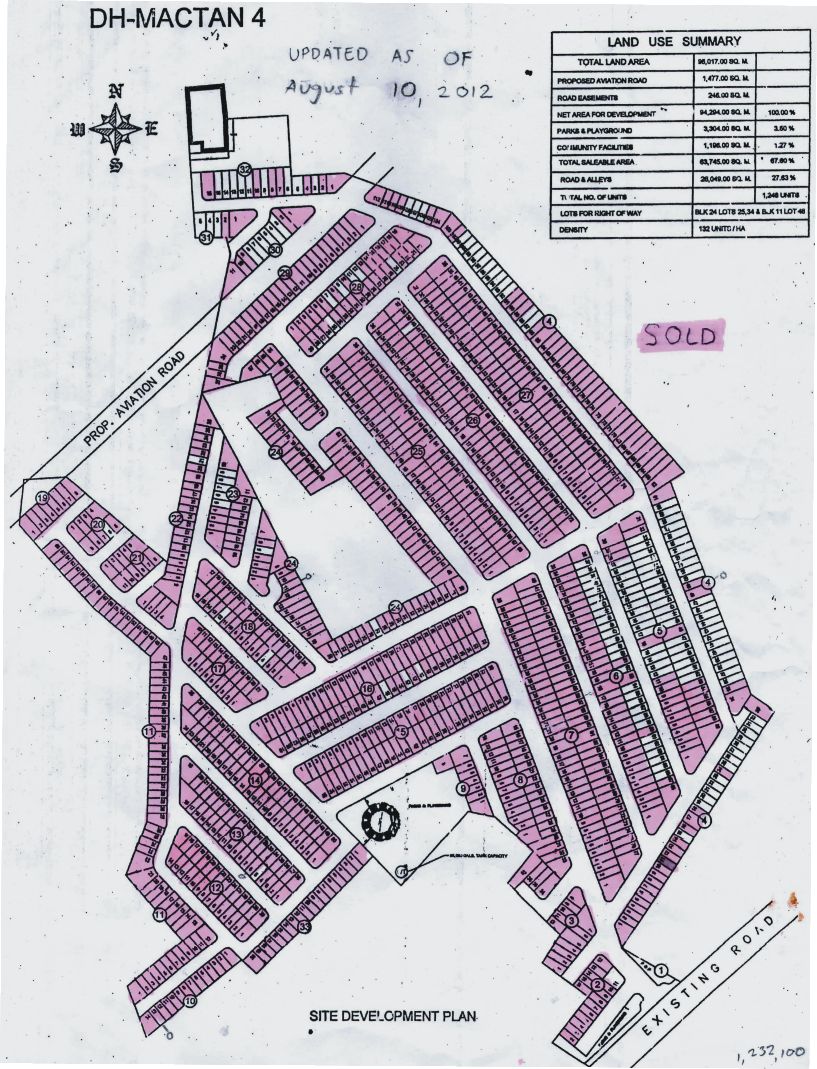 DECA MACTAN 4 READY FOR OCCUPANCY UNITS!
X - SOLD OUT UNIT! ( Updated as of 9-22-12 )
Note: The update today is for today's only. Deca is very salalable project with
minimum of 5 sales a day.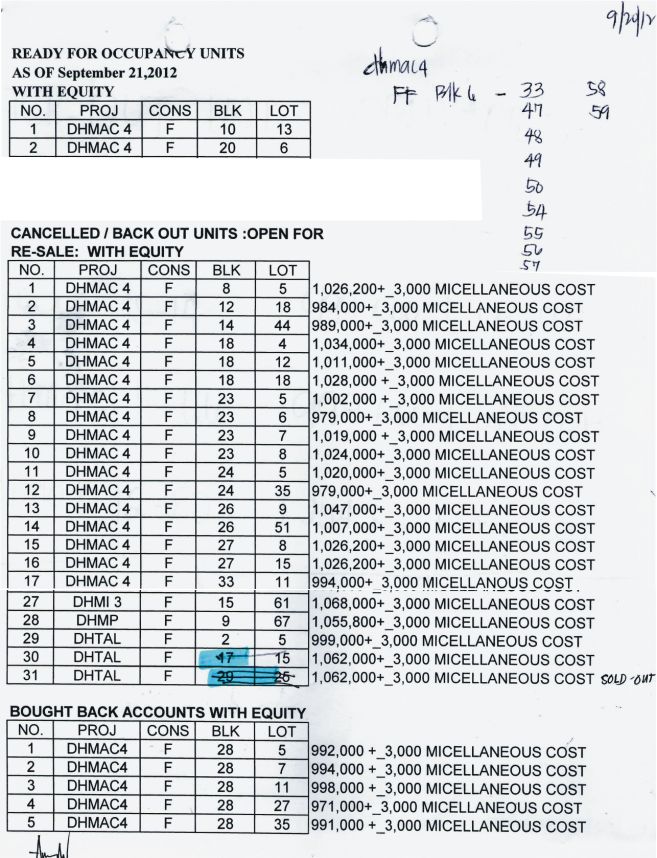 X
X



Deca Mactan3
Deca Mandaue Prime
Deca Talisay


12-10-12 UPDATE
AVAILABLE FOR SALE
- ON GOING CONSTRUCTION
- READY FOR OCCUPANCY
( Without Garage )








































TWO STOREY TOWNHOUSE
Model House Interior Design
Exactly good things are seldom to happen in our lives by getting some better opportunities to own a lowcost housing home. However there's a right subdivision to address your housing needs only at
Deca Homes Mactan 4 and 5 a house and lot subdivision package
,
w
hich is the most affordable property for sale in Lapu-lapu City, Cebu. Likewise the buyer can move in the unit immediately without paying big amount of downpayment, it's absolutely like renting and own it.

DECA HOMES MACTAN 4 AND 5 SUBDIVISION
Mactan, Lapu-lapu City
IMPORTANT REMINDERS:
WE DON'T HAVE RENT TO OWN IN CEBU ANYMORE. FOR THE CHEAPEST CEBU
R
EADY
F
OR
O
CCUPANCY, YOU NEED TO SECURE AT LEAST PHP 400,000.00 CASH ON HAND TOGETHER WITH LOAN GUARANTEE COMING FROM BANK/PAG-IBIG IF YOU LIKE TO MOVE IN THE UNIT RIGHT AWAY.
FOR BUYER'S WHO CAN'T AFFORD YET TO BUY THE
RFO
UNIT I MAY SUGGEST TO PREFER GET THE PRE-SELLING ONE, DUE TO LONG TERM EQUITY/DOWNPAYMENT THAT SURELY YOU CAN AFFORD IT. ONCE THE THIRD MACTAN BRIDGE WILL BE FINISHED BY YEAR 2022 ABSOLUTELY ALL REAL ESTATE PROPERTIES IN CEBU BECOME VERY EXPENSIVE AND THE POSSIBILITY OF NO MORE HOUSING SUBDIVISION, ONLY CONDOMINIUM MAY THE PROJECTS DURING THAT TIME
.
Authorizing to Sell Certificate of Registration: HLURB-CVRFO-A-12/17-0198 LUZDIMINDA C. LABISTE

18 YEARS SOLID SELLING EXPERIENCED WITH GOOD TRACK RECORD AND ONE OF THE TOP SELLER IN CEBU!
"FOR FREE COMMON SITE TRIPPING VEHICLE THE BUYER MUST INFORM ME AT LEAST ONE DAY AHEAD ( If the developer has a service vehicle). IF THE BUYER LIKE A PERSONAL TRIPPING BUT DON'T HAVE CAR, HE/SHE MIGHT PAY THE MINIMAL COST OF FUEL EXPENSES ( to be refunded once will reserve a unit ) FOR THE PRIVATE AND EXCLUSIVE SITE VIEWING."
Provider For All Types Of Affordable Cebu Real Estate Properties, House and Subdivisions, Lowcost Housing and Condominiums For Sale!