GUADALUPE LOT FOR SALE - CEBU CITY REAL ESTATE FOR SALE
Search Google Map For Cebu City, Philippines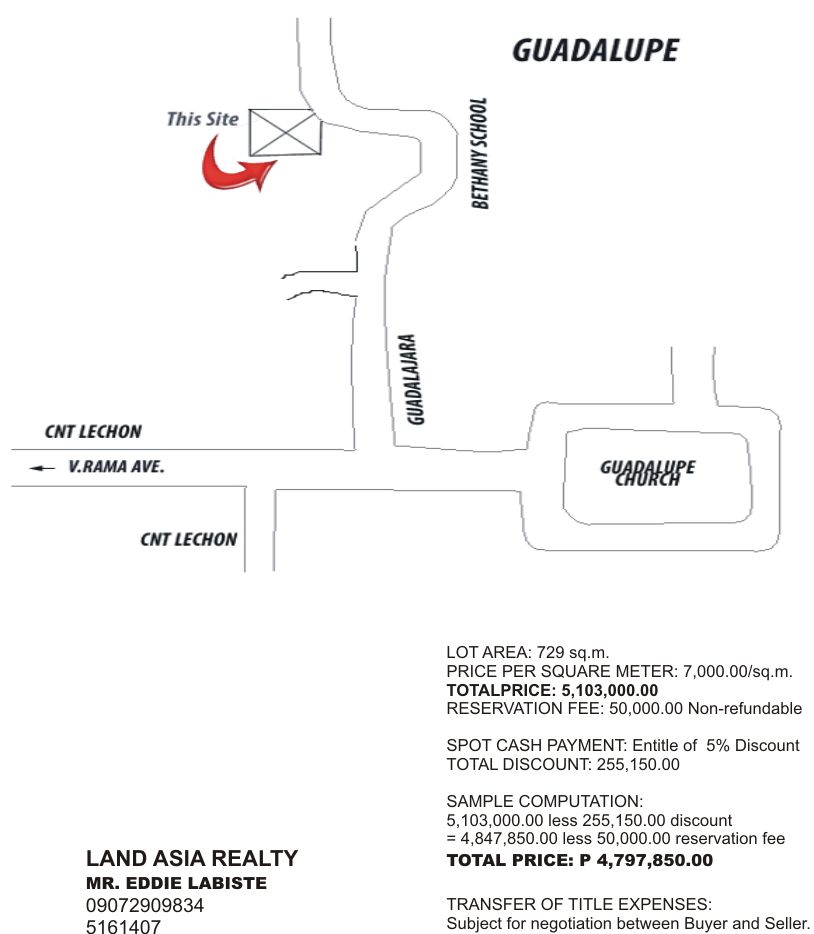 Lot for sale in Cebu particularly in Guadalupe area an elevated property with good view to the City of Cebu. It has a very nice environment with no eye sore at all and very quiet places for living. Price is very reasonable and it can't be found anymore elsewhere in Cebu City.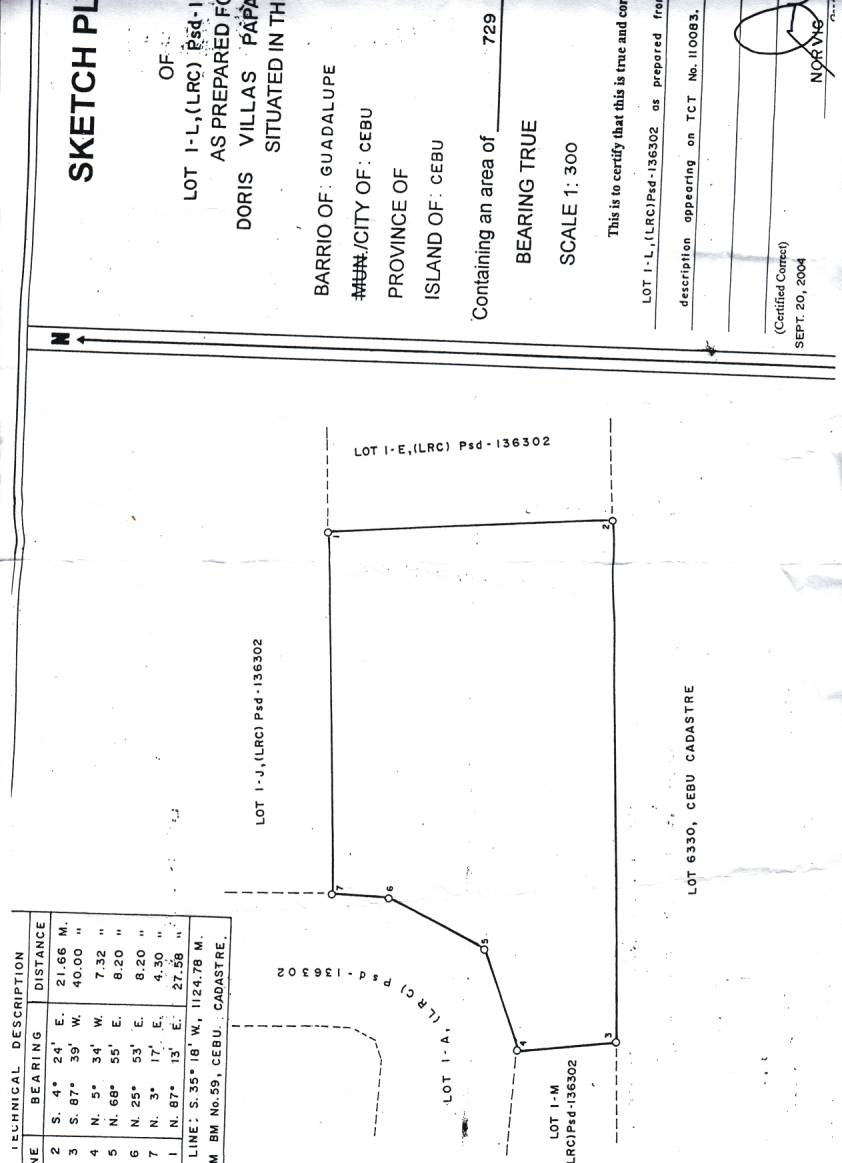 RESERVE NOW TO BEAT THE PRICE INCREASE & GET BETTER LOCATION!

IMPORTANT REMINDERS:
WE DON'T HAVE RENT TO OWN IN CEBU ANYMORE. FOR THE CHEAPEST CEBU
R
EADY
F
OR
O
CCUPANCY, YOU NEED TO SECURE AT LEAST PHP 400,000.00 CASH ON HAND TOGETHER WITH LOAN GUARANTEE COMING FROM BANK/PAG-IBIG IF YOU LIKE TO MOVE IN THE UNIT RIGHT AWAY.
FOR BUYER'S WHO CAN'T AFFORD YET TO BUY THE
RFO
UNIT I MAY SUGGEST TO PREFER GET THE PRE-SELLING ONE, DUE TO LONG TERM EQUITY/DOWNPAYMENT THAT SURELY YOU CAN AFFORD IT. ONCE THE THIRD MACTAN BRIDGE WILL BE FINISHED BY YEAR 2022 ABSOLUTELY ALL REAL ESTATE PROPERTIES IN CEBU BECOME VERY EXPENSIVE AND THE POSSIBILITY OF NO MORE HOUSING SUBDIVISION, ONLY CONDOMINIUM MAY THE PROJECTS DURING THAT TIME
.
20 YEARS OF SOLID SELLING EXPERIENCED WITH GOOD TRACK RECORD AS ONE OF THE TOP SELLER IN CEBU!
"FOR FREE COMMON SITE TRIPPING VEHICLE THE BUYER MUST INFORM ME AT LEAST ONE DAY AHEAD ( using develpoer's vehicle). FOR A PERSONAL AND EXCLUSIVE SITE TRIPPING BUT THE BUYER DON'T HAVE CAR, HE/SHE MIGHT PAY THE MINIMAL COST OF FUEL EXPENSES ( to be refunded once will reserve a unit ) EXCLUSIVE SITE VIEWING."
BE AWARE OF THE PRICE HIKE IF YOU CAN'T RESERVE NOW!
I'M NOT OVERPRICING HERE FOR 19 YEARS!
FOR BEST CEBU CITY HOUSING SUBDIVISION ... KINDLY CLICK HERE
Provider For All Types Of Affordable Cebu Real Estate Properties, House and Subdivisions, Lowcost Housing and Condominiums For Sale!
TO GOD BE THE GLORY!
Copyright © 2011 - 2022, Cebuhousing Webmaster. All rights reserved.
Powered by: www.cebuhousing.net


Disclaimer: All info, data, figure, discount & picture contained in this website are for representation or reference only. We reserve the right to correct any typographical errors.
Just enjoy your search here and hopefully found the right properties for housing, condominium, beautiful & elegant homes in Cebu, Philippines!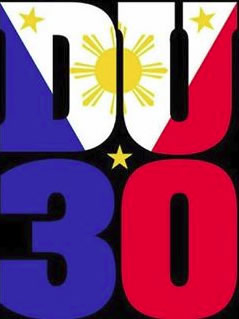 IT'S
BUYER'S
ADVANTAGE
TO BUY
PROPERTY
DURING
THIS TIME
OF
COVID-19
CRISIS.
SINCE ALL
PROPERTIES
IN CEBU
HAVE NO
PRICES
INCREASE
YET!!!

FOR
YOUR INVESTMENT
SECURITY
YOU MUST
HAVE AN
EXPERIENCED
LICENSE
BROKER/
AGENT WITH
CREDIBILTY
&
IDENTITY
BY
HAVING OF
PERSONAL
&
LEGIT
WEBSITE.
DON'T
REALY
TRUST &
GAMBLE
THOSE
PEOPLE RELYING ON
SOCIAL
MEDIA ONLY, SOME OF
THEM ARE
SCAMMERS
AND WILL
VANISH
AFTER
COMMITING
VIOLATION!

BUSINESS DAYS: Monday to Sunday
BUSINESS TIME:
8am to 5pm

For a site tripping book one day ahead!

For unit reservation payment at any time during office hour.

LIFETIME
SERVICE
WARRANTY
FOR MY
BUYERS
EXCEPT
OF MONEY
INVOLVEMENT
WE'RE
NOT
ALLOWED.
100%
G
U
A
R
A
N
T
E
E
D
OF
NO
OVER
PRICING
HERE
FOR
19
YEARS
OF
SELLING!
WE
SELL
ONLY
QUALITY
&
SECURE
PROJECTS.
ONE
BROKER/
AGENT
IS
ENOUGHT
TO
AVOID
CONFUSION.

Beware
of
opportunistic
agents
who
offered
commission
rebate
over
rivalry
in order
to close
your
deal.
They're
bad
elements
&
untrusted.
It is
prohibited
by law
and
probably
will
bring
bad luck
to
your
family.

MY
ASSURANCE
IS TO GIVE
YOU THE
BEST &
RIGHT
PROPERTY.
WE'RE
YOUR
TRUSTED
& TOP
LOCAL
WEBSITE
IN CEBU!

HIRING!!!
WE ARE
LOOKING
FOR THOSE
INETERESTED
PERSON
WHO ARE
LIKE
TO JOIN
US IN
SELLING
REAL
ESTATE
PROPERTY.