Lot8 Cebu City Condominium For Sale Affordable Listing
Mabolo, Cebu City
AMENITIES
WIFI
CCTV
Intercoms in all units
Outdoor lap pool
Commercial Spaces that will serve every necessity of the residents such as Mini Marts, Laundry Shops, and others.
Five floors parking area
100% Back up Power (Generator)
A Multi-Purpose Hall at the rooftop
Earthquake proof up to Magnitude 9
An expert Team of Property Management will be at your service
All Units are provided with Balcony and Windows.
Sliding Glass Doors are provided for the Balcony Entrance
All are fitted with all water and electrical Provisions.
Floors are embedded with tiles.
Kitchen sinks and shelves are all in.
ALL ROOMS ARE PROVIDED WITH WALL MOUNTED SHELVES
---
TYPE S (STUDIO TYPE)
Details:
Sleeping area
Toilet and bath
Balcony
Total Area: 18.78 sq. m.
Total Contract Price: P 1,451,855.00
...5th Floor to 16th Floor Units

PAYMENT SCHEME:
Reservation Fee: P 15,000.00
1. Scheme A: 90/10
90% Spot payable upon reservation (net of 5%disc. on the 90%)P 1,292,151.00
10% Retention (upon turnover) - P 145,185.00
2. Scheme B: Deferred Cash - Mo. installements for 12 mos. 0 Int. = P 123,556.00
3. Scheme C: 20/80
20% downpayment payable 12 mos. no interest - P 28,099.00/month
80% Loanable to Bank or Pag-ibig: P 1,145,484.00
Pag-ibig Financing Ammortization:
30 years - 9,631.80/mo. ( net income required is 24,079.50/mo. )
Bank Financing Ammortization:
20 years - 12,215.78/mo. ( net income required is 36,647.34/mo. )

NOTE: Computation per Scheme is already inclusive of the 3.5% Misc. Fees.
All Units are provided with Balcony and Windows.
Sliding Glass Doors are provided for the Balcony Entrance
All are fitted with all water and electrical Provisions.
Floors are embedded with tiles.
Kitchen sinks and shelves are all in.
ALL ROOMS ARE PROVIDED WITH WALL MOUNTED SHELVES
TYPE C - One Bedroom Unit
Details:
1 Bedroom
Toilet and Bath
Living Room
kitchen
2 Balconies
Total Area: 24.97 sq. m.
Tota Contract Price: P 1,930,395.00
...5th Floor to 16th Floor Units

PAYMENT SCHEME:
Reservation Fee: P 15,000.00
1. Scheme A: 90/10
90% Spot Cash upon reservation (net of 5%disc. on the 90%) P 1,718,051.00
10% Retention (upon turnover) - P 193,039.00
2. Scheme B: Deferred Cash - Mo. installements for 12 mos. 0 Int.- P 164,830.00
3. Scheme C: 20/80
20% Downpayment payable 12 mos. no interest - P 37,470.00/month
80% Loanable to Bank or Pag-ibig - P 1,528,316.00
Pag-ibig Financing Ammortization:
30 years - 13,979.96/mo. ( net income required is 34,949.91/mo. )
Bank Financing Ammortization:
20 years - 16,298.42/mo. ( net income required is 48,895.26/mo. )

NOTE: Computation per Scheme is already inclusive of the 3.5% Misc. Fees.
All Units are provided with Balcony and Windows.
Sliding Glass Doors are provided for the Balcony Entrance
All are fitted with all water and electrical Provisions.
Floors are embedded with tiles.
Kitchen sinks and shelves are all in.
ALL ROOMS ARE PROVIDED WITH WALL MOUNTED SHELVES
TYPE B1 - (2 Bedroom Unit)

Details:
2 Bedrooms
Toilet and Bath
kitchen
Living Room
3 Balconies
Total Area: 48.33 sq. m.
Total Contract Price: P 4,090,098.00

...5th Floor to 16th Floor Units

PAYMENT SCHEME:
Reservation Fee: P 15,000.00
1. Scheme A: 90/10
90% Spot payable upon reservation (net of 5%disc. on the 90%)
P 3,624,849.00
10% Retention (upon turnover) - P 409,010.00
2. Scheme B: Deferred Cash - Mo. installements for 12 mos no Int.
3. Scheme C: 30/70
30% downpayment payable 12 mos. no interest - P 112,404.00/mo
70% Loanable to Bank or Pag-ibig: P 2,849,068.00
Pag-ibig Financing Ammortization:
30 years - 26,061.27/mo. ( net income required is 65,153.19/mo. )
Bank Financing Ammortization:
20 years - 30,383.31/mo. ( net income required is 91,149.95/mo. )

NOTE:
Computation per Scheme is already inclusive of the 3.5% Misc. Fees.
All Units are provided with Balcony and Windows.
Sliding Glass Doors are provided for the Balcony Entrance
All are fitted with all water and electrical Provisions.
Floors are embedded with tiles.
Kitchen sinks and shelves are all in.
ALL ROOMS ARE PROVIDED WITH WALL MOUNTED SHELVES
Earthquake proof up to Magnitude 9
Earthquake proof up to Magnitude 9
Earthquake proof up to Magnitude 9
Actual Interior Model Design Excluding Furniture & Curtains ( Pls. click to zoom out! )
This affordable property project of Cebu, Philippines known as Lot 8 Cebu City Condominiums with a concept of Asian inspired building that brags of 242 diffidently priced units all with balconies and standard kitchen and bathroom fixtures to stand magnitude 9 earthquake.
This is situated considers a first here in "Cebu condominium project" to stand in Almendras St., Mabolo in the center of a progressive urban setting, easy access to Business park, premier malls, restaurants and schools.
It belongs in the middle of a residential area where tranquility exists amidst the capricious nature of the City of Cebu which excellently built CITY HOME that will keep us safe and warm at night.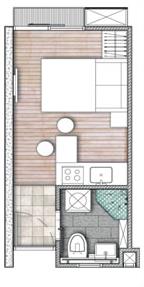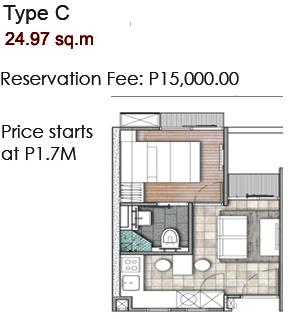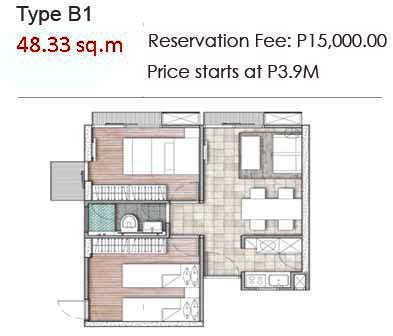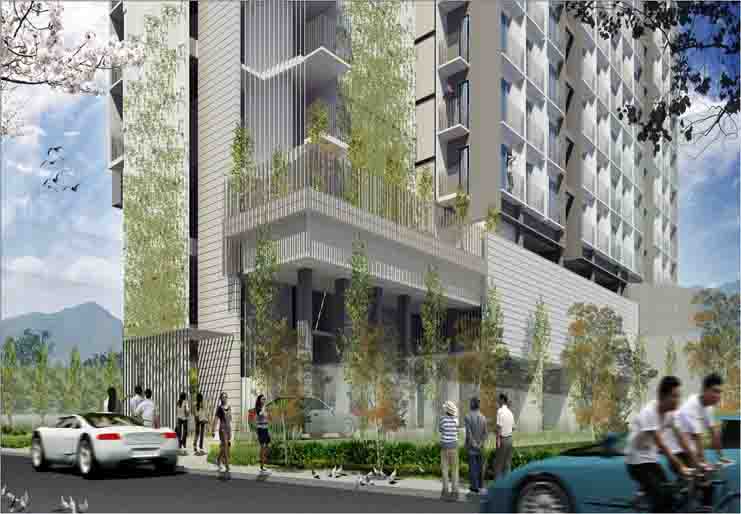 Simplicity of life it s easier and enjoyable for you with an elegant outdoor infinity pool at the third level, Balconies in all units, a spacious Multi-Purpose Hall on the rooftop, a five storey parking area to house your cherish vehicles, 100% back up power and several commercial establishments at the foot of the building to address your everyday need.
Experience paradise in this contemporary abode located in the middle of the residential area in Mabolo, Cebu City.
Experience a good life. Experience the Suite Life within very middle part of Cebu City.


Actual Interior Model Design Excluding Furniture & Curtains ( Pls. click to zoom out! )
Actual Interior Model Design Excluding Furniture & Curtains ( Pls. click to zoom out! )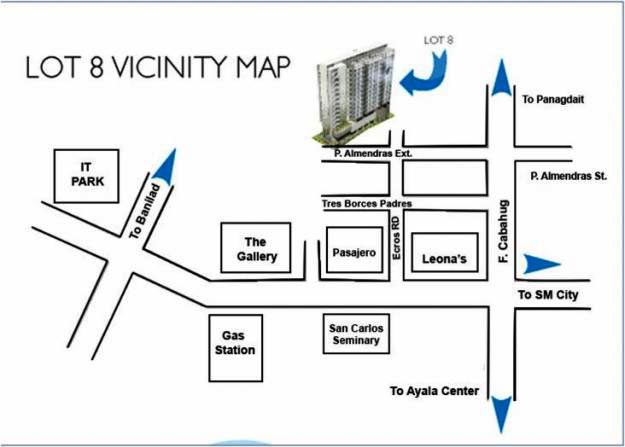 Updated as of May 01, 2012
Quality and Lowest Price Ever For One Bedroom Unit condominium in Cebu!
Look for Mr. Eddie Labiste
09072909834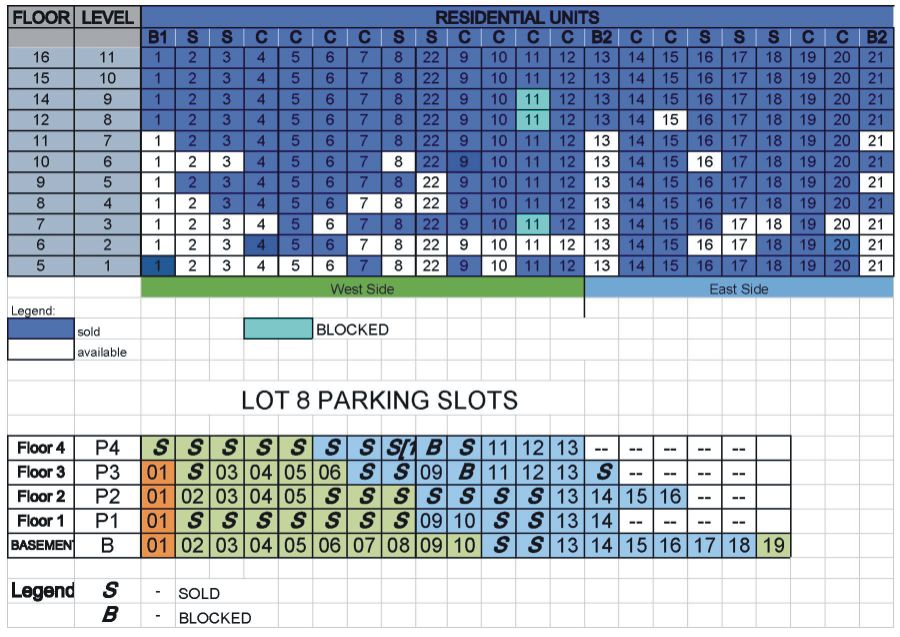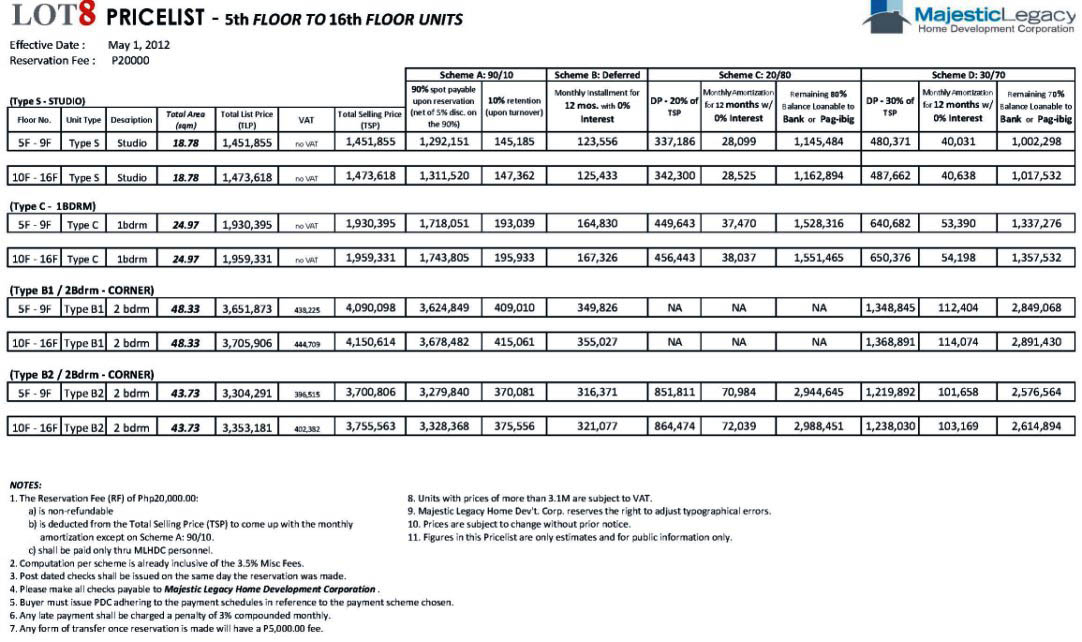 S - Studio Unit ( 18.78 sq.m. ) B1 - 2 bedroom Unit ( 48.33 sq.m. )
C - 1 bedroom Unit ( 24.97 sq.m. ) B2 - 2 bedroom Unit ( 43.73 sq.m. )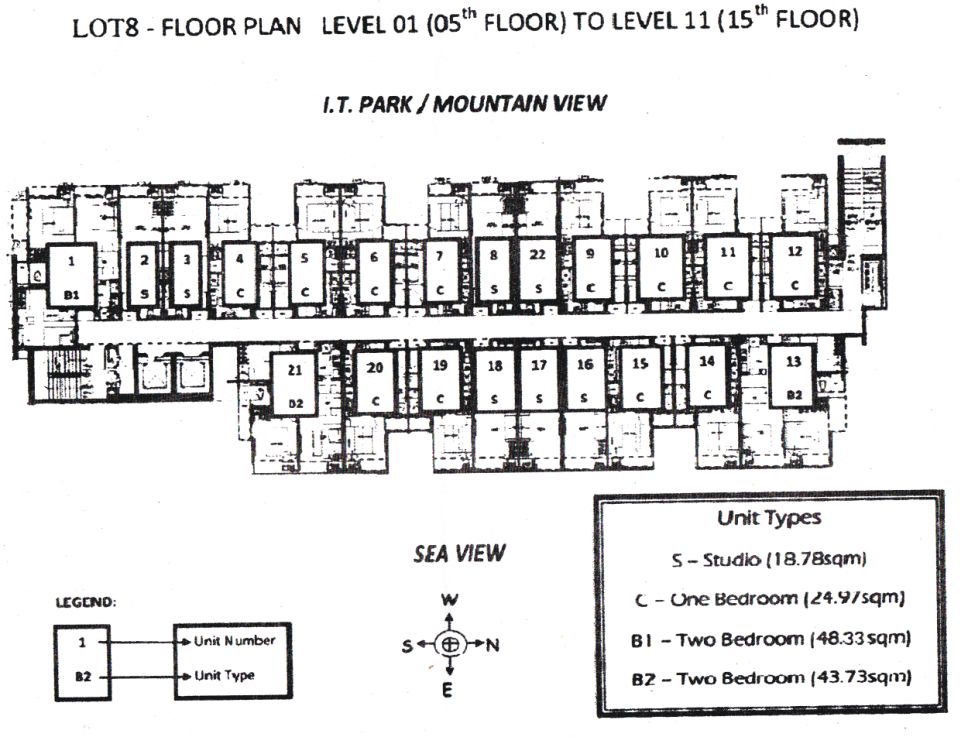 Updated as of May 01, 2012




LATEST UPDATE AS OF NOVEMBER 7, 2014
IMPORTANT REMINDERS:
WE DON'T HAVE RENT TO OWN IN CEBU ANYMORE. FOR THE CHEAPEST CEBU
R
EADY
F
OR
O
CCUPANCY, YOU NEED TO SECURE AT LEAST PHP 400,000.00 CASH ON HAND TOGETHER WITH LOAN GUARANTEE COMING FROM BANK/PAG-IBIG IF YOU LIKE TO MOVE IN THE UNIT RIGHT AWAY.
FOR BUYER'S WHO CAN'T AFFORD YET TO BUY THE
RFO
UNIT I MAY SUGGEST TO PREFER GET THE PRE-SELLING ONE, DUE TO LONG TERM EQUITY/DOWNPAYMENT THAT SURELY YOU CAN AFFORD IT. ONCE THE THIRD MACTAN BRIDGE WILL BE FINISHED BY YEAR 2022 ABSOLUTELY ALL REAL ESTATE PROPERTIES IN CEBU BECOME VERY EXPENSIVE AND THE POSSIBILITY OF NO MORE HOUSING SUBDIVISION, ONLY CONDOMINIUM MAY THE PROJECTS DURING THAT TIME
.
20 YEARS OF SOLID SELLING EXPERIENCED WITH GOOD TRACK RECORD AS ONE OF THE TOP SELLER IN CEBU!
"FOR FREE COMMON SITE TRIPPING VEHICLE THE BUYER MUST INFORM ME AT LEAST ONE DAY AHEAD ( using develpoer's vehicle). FOR A PERSONAL AND EXCLUSIVE SITE TRIPPING BUT THE BUYER DON'T HAVE CAR, HE/SHE MIGHT PAY THE MINIMAL COST OF FUEL EXPENSES ( to be refunded once will reserve a unit ) EXCLUSIVE SITE VIEWING."
BE AWARE OF THE PRICE HIKE IF YOU CAN'T RESERVE NOW!
I'M NOT OVERPRICING HERE FOR 19 YEARS!
Provider For All Types Of Affordable Cebu Real Estate Properties, House and Subdivisions, Lowcost Housing and Condominiums For Sale!