MARIA ELENA SUBDIVISION READY FOR OCCUPANCY HOUSE IN CEBU
Casuntingan, Mandaue City ( close to Filiza Village )
UPDATED ON JUNE 04, 2015
Maria Elena Subdivision in Mandaue City, Cebu where a dream of modern and elegant living that buyer surely experience it and there are 14 units are Ready For Occupancy ( RFO ). Inspite of being affordable houses but it has good quality materials and construction workmanship. Best house and lot for sale in Mandaue city area near University of San Carlos Talamban and accessible to Ateneo de Cebu too.

Accessibilities:
15 Minutes Drive to Mactan Cebu International Airport
10 Minutes Drive to SM Park Mall
13 Minutes Drive to SM City Cebu
10 Minutes Drive to University Of San Carlos - Talamban
12 Minutes Drive to Ateneo de Cebu
7 Minutes Drive to Banks, Schools and some business establishments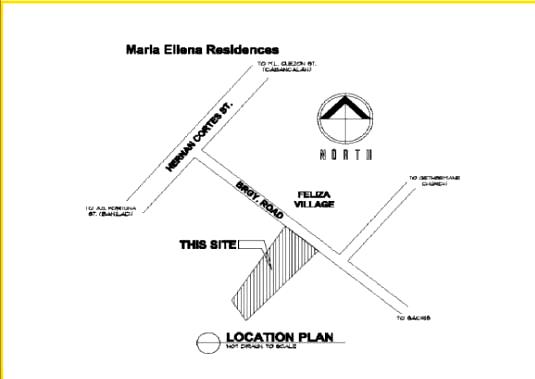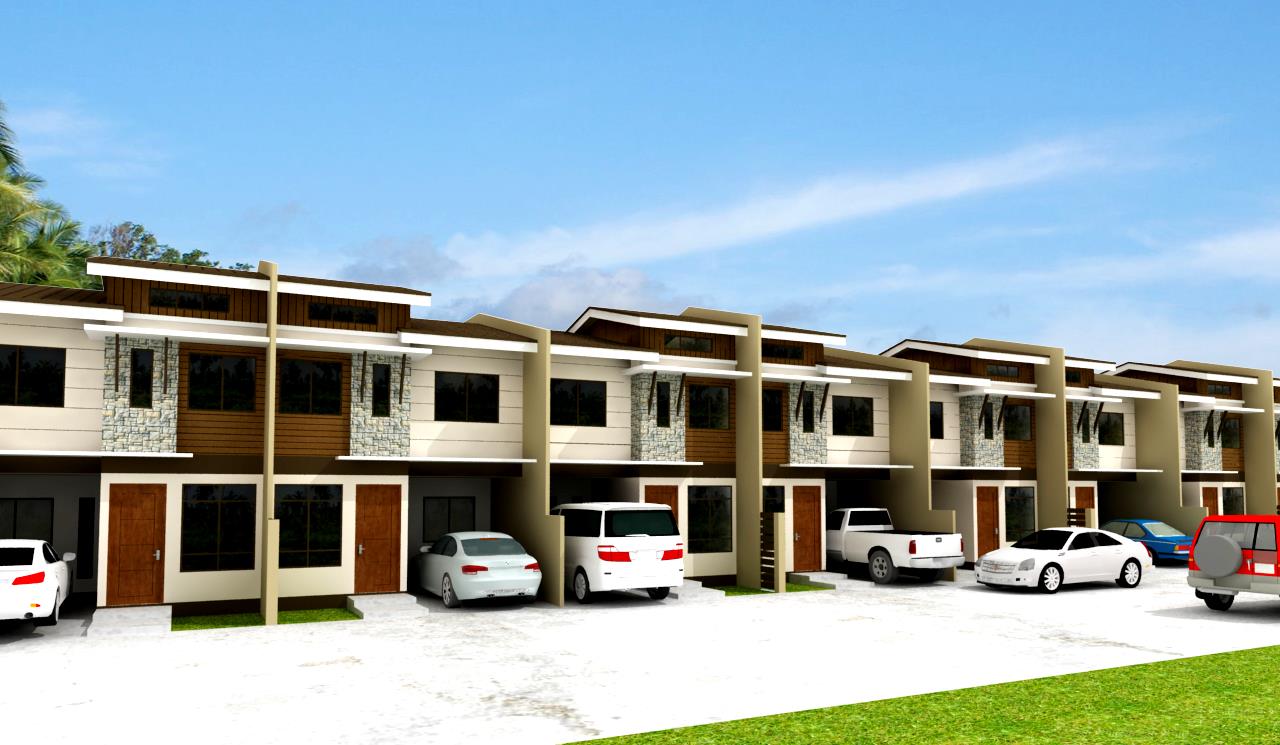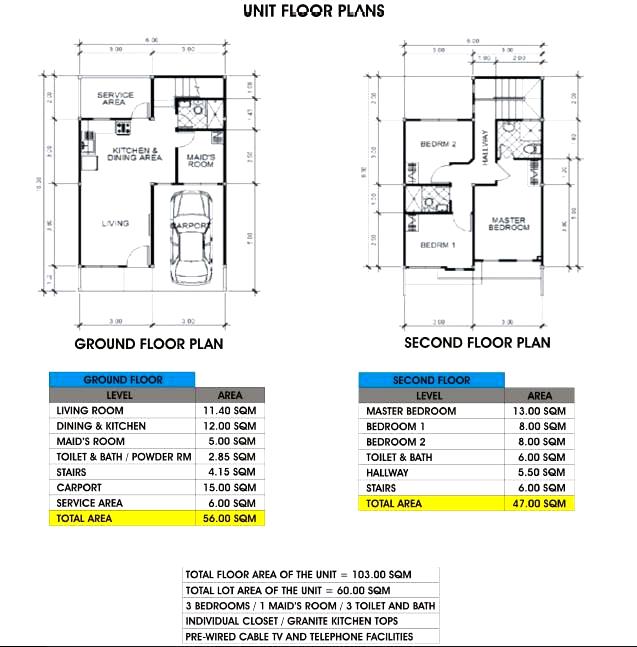 UNIT DESCRIPTIONS and SPECIFICATIONS:
3 Bedrooms
2 Toilet and Bath
Maids Room
Service Area
Carport

Lot Area: 60 sqm
Floor Area: 95 sqm
Ground Floor
Unit Lot Area: 60 sqm or 6.00m x 10.00m

Unit Floor Areas:
GROUND FLOOR
Living Area: 9.00 sqm
Dining and Kitchen : 12.00 sqm
Maid's Room = 5.00 sqm
Toilet & Bath / Powder Room = 2.85 sqm.
Stairs = 4.15 sqm.
Carport = 15.00 sqm.
Service Area = 6.00 sqm.
Total Ground Floor Area = 54.00 sqm.

SECOND FLOOR
Master Bedroom = 10.70 sqm.
Bedroom 1 = 7.40 sqm.
Bedroom 2 = 7.00 sqm.
Toilet & Bath = 6.00 sqm.
Hallway = 3.60 sqm.
Stairs = 6.00 sqm.
Total Second Floor Area = 41.00 sqm.
Total Unit Floor Area = 95.00 sqm.
CONTRACT SELLING PRICE: Php 3,980,000.00



Mortgage Sample Computation: BANK / PAG-IBIG FINANCING
70% Balance: 2,786,000.00

BANK FINANCING:
5 years to pay = Php 53,215.84/mo. ( net income requirements 159,647.52/mo.; age limit less than 55 years of age )
10 years to pay = Php 30,235.42/mo. ( net income requirements 90.706.26/mo.; age limit less than 50 years of age )
15 years to pay = Php 22,763.95/mo. ( net income requirements 68,291.85/mo.; age limit less than 45 years of age )

PAG-IBIG FINANCING:
5 years to pay = Php 56,470.04/mo. ( gross income requirements 188,233.46/mo.; age limit less than 65 years of age )
10 years to pay = Php 33,779.79/mo. ( gross income requirements 112,599.30/mo.; age limit less than 60 years of age )
15 years to pay = Php 26,600.35/mo. ( gross income requirements 88,667.83/mo.; age limit less than 55 years of age )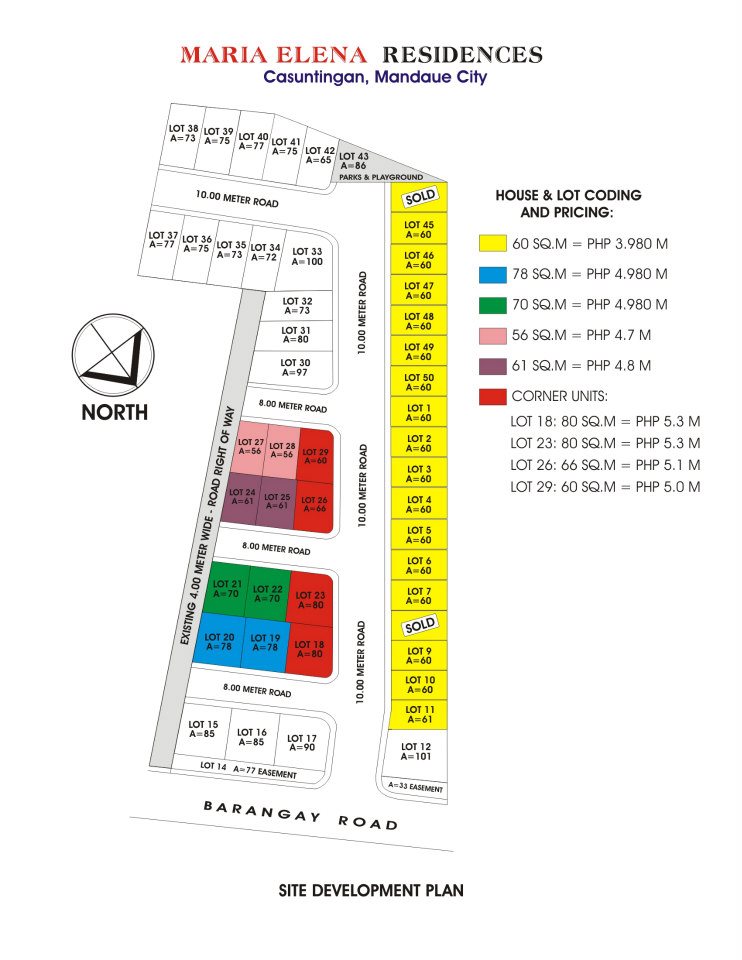 Maria Elena Subdivision for Sale in Mandaue City, Cebu. Maria elena mandaue, Maria elena subdivision, Mandaue properties, Cebu real estate!
UPDATED PRICELIST AS OF APRIL 04, 2015
14 UNITS READY FOR OCCUPANCY TOWNHOUSE/HOUSE AND LOT IN MANDAUE, CEBU!
UPDATED ON APRIL 04, 2015

X - SOLD OUT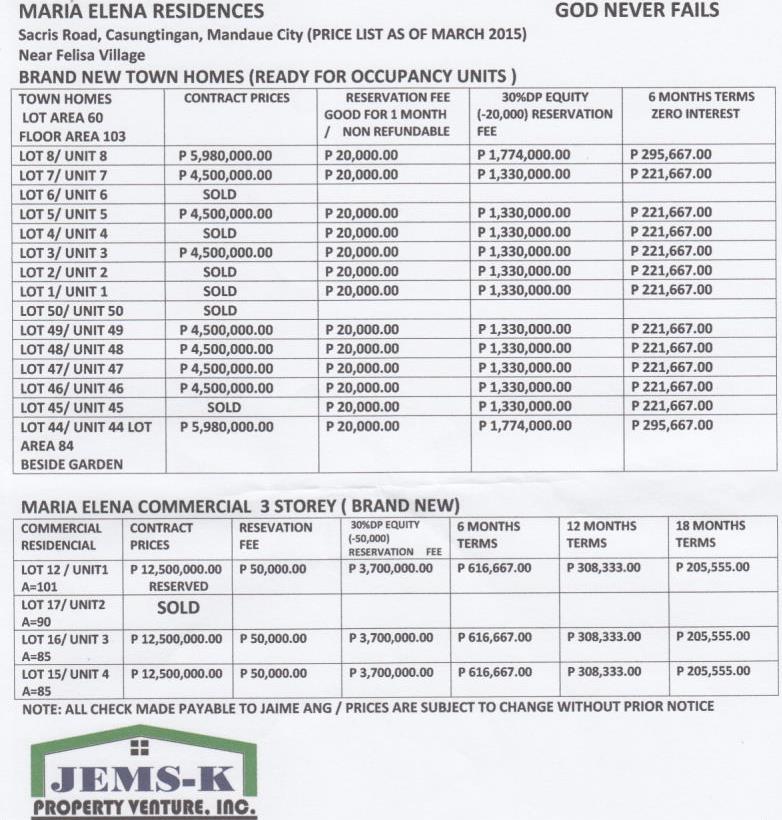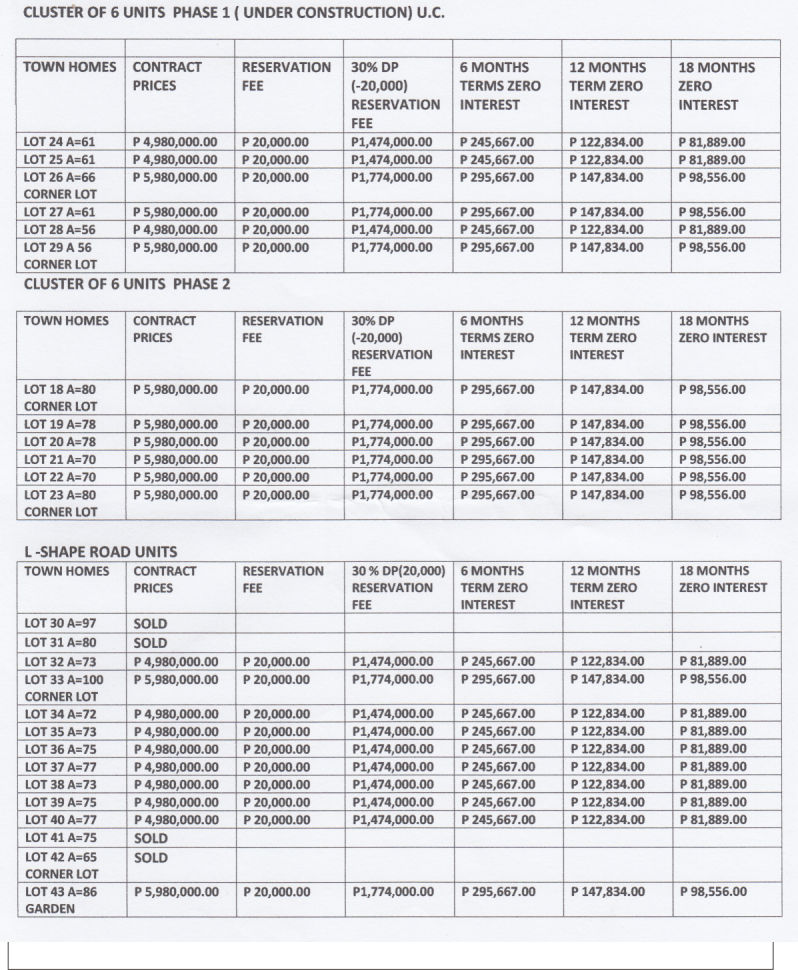 X
X
X
X

LOT 44
A = 60

LOT 8
A = 60

14 UNITS READY FOR OCCUPANCY AS OF APRIL 04, 2015
READY FOR OCCUPANCY TOWNHOUSE/HOUSE AND LOT IN MANDAUE, CEBU!
IMPORTANT REMINDERS:
WE DON'T HAVE RENT TO OWN IN CEBU ANYMORE. FOR THE CHEAPEST CEBU
R
EADY
F
OR
O
CCUPANCY, YOU NEED TO SECURE AT LEAST PHP 400,000.00 CASH ON HAND TOGETHER WITH LOAN GUARANTEE COMING FROM BANK/PAG-IBIG IF YOU LIKE TO MOVE IN THE UNIT RIGHT AWAY.
FOR BUYER'S WHO CAN'T AFFORD YET TO BUY THE
RFO
UNIT I MAY SUGGEST TO PREFER GET THE PRE-SELLING ONE, DUE TO LONG TERM EQUITY/DOWNPAYMENT THAT SURELY YOU CAN AFFORD IT. ONCE THE THIRD MACTAN BRIDGE WILL BE FINISHED BY YEAR 2022 ABSOLUTELY ALL REAL ESTATE PROPERTIES IN CEBU BECOME VERY EXPENSIVE AND THE POSSIBILITY OF NO MORE HOUSING SUBDIVISION, ONLY CONDOMINIUM MAY THE PROJECTS DURING THAT TIME
.
Authorizing to Sell Certificate of Registration: HLURB-CVRFO-A-12/17-0198 LUZDIMINDA C. LABISTE

18 YEARS SOLID SELLING EXPERIENCED WITH GOOD TRACK RECORD AND ONE OF THE TOP SELLER IN CEBU!
"FOR FREE COMMON SITE TRIPPING VEHICLE THE BUYER MUST INFORM ME AT LEAST ONE DAY AHEAD ( If the developer has a service vehicle). IF THE BUYER LIKE A PERSONAL TRIPPING BUT DON'T HAVE CAR, HE/SHE MIGHT PAY THE MINIMAL COST OF FUEL EXPENSES ( to be refunded once will reserve a unit ) FOR THE PRIVATE AND EXCLUSIVE SITE VIEWING."
Provider For All Types Of Affordable Cebu Real Estate Properties, House and Subdivisions, Lowcost Housing and Condominiums For Sale!