Cityscape 2 - Uptown
Modern Residential-Hotel Building
This modern type of real estate development as Residential-Hotel Building of Myvan City Scape Cebu is strategically located near Robinsons Mall, Midtown area. It is 5 to 10 minutes drive to SM City and Ayala Business Center and just minutes away from schools, medical centers, shopping malls, golf courses, hotels and much more.
An ideal destination to end your taxing day, Scape Tower as affordable cebu condominium for sale, that will gives you the full comfort of luxurious yet practical living¸ with its bar and restaurant, coffee shop and many more located at its ground floor level. It surely is the welcoming atmosphere you crave after the long day at work. Just like any individual who experiences the daily demands of the city life¸ capping your day with a drink and a flavorful of aromatic dishes is a start of the daily relaxation you deserve.
AMENITIES:
* Hotel Lobby Reception Area
* Two (2) high-speed elevator units
* 3-Levels of Indoor Parking
* Infinity Swimming Pool
* Entertainment level
* Entire Floor of Conference Rooms
* Automatic Fire alarm and sprinkler system
* CCTV Monitoring System
* 100% Standby Generator for the whole building
* Prime Commercial Units (for Lease): open for Restaurant, Coffee House etc.
No. of Storeys : 16 storeys
No. of Units : 120 units

Floor Area : 17 - 22 square meters
Unit type : Studio, modular

Price Range : 1.2M to 1.6M (RESIDENTIAL)
1.5M to 2.0M (CONDOTEL)

Minimum Floor Area: 17sqm
Type of Unit: Studio, modular type (expandable)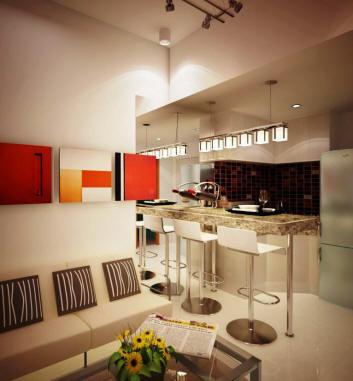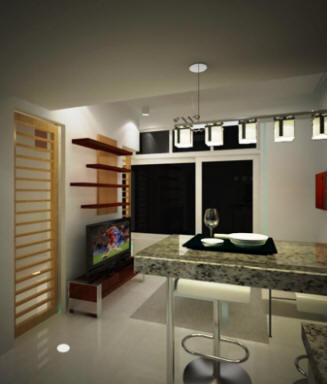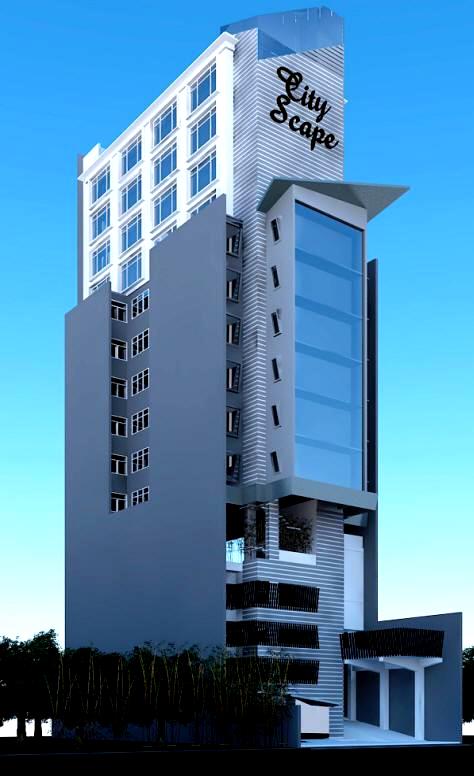 MYVAN CITYSCAPE 2 - CEBU CONDOMINIUM FOR SALE
(Fronting Baseline Sports Center)
UPDATED AS OF NOVEMBER 09, 2016
---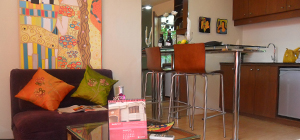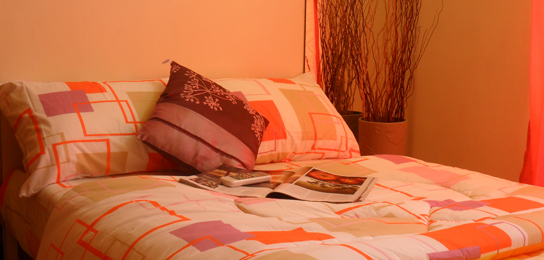 No. of Storeys : 16 storeys
No. of Units : 120 units
Floor Area : 17 - 22 square meters
Unit type : Studio, modular
Price Range : 1.2M to 1.6M (RESIDENTIAL)
1.5M to 2.0M (CONDOTEL)
Minimum Floor Area: 17sqm
Type of Unit: Studio, modular type (expandable)
Payments Terms:
Reservation Fee: PhP 20,000.00
A.) SPOT CASH -10% discount
B.) SPOT DOWNPAYMENT
30% spot DP; 70% Bal over 25 mos @ 0% interest
50% spot DP; 50% Bal over 25 mos @ 0% interest
C.) EASY INSTALLMENT
20% spot DP;80% Balance thru bank/Pag-IBIG/In-house
30% spot DP;70% Balance thru bank/Pag-IBIG/In-house
40% spot DP;60% Balance thru bank/Pag-IBIG/In-house
50% spot DP;50% Balance thru bank/Pag-IBIG/In-house

100% Payable in 25 months ZERO INTEREST WITH
20% DP Payable in 25 months ZERO INTEREST; ** 80% Balance thru bank/Pag-IBIG/In-house Condo-Hotel Concept
Design for investor type clients who are looking for alternative investment portfolio which is solid/tangible compared to paper assets & deliver higher return of investment. The units standard, junior, presidential room (20.17sqm to 34sqm) selling between 1.5M to 2.5M, and deliver finish & furnish. Available from 3rd floor up to 9th floor. Concepts:
* investor own the condo unit thru Condominium Certificate of Title (CCT)
* unit owner in Condotel, sign a MOA with Professional Hotel Management Group for Hotel Management Agreement 10 years. (renewable at the option of the unit owners)
* hotel gross rental revenue is split into 60:40; 60% goes to hotel operator to take care for hotel operating cost and 40% share goes to Condotel unit owner and divided proportionately
* rental revenue is given quarterly, thru check or deposit directly to investors account.
* investors are entitled for 30days Free stay in the Hotel or any affiliated hotel nationwide or sell back said 30 days to the Hotel Operator and (less 30%)
* investor is entitled for Discount Card for all Merchant Partner as high as 5% to 30%
* investment is insured (both Investors in case of Death balance is fully paid, and building in case of Fire & other calamity, all subject for insurance terms & conditions)

Condo-Residential Units
Residential Unit is design for those buyer/investor looking for a secured and convenient condo living to live with comfort of luxurious yet practical living. Units standard Units are Studio 20.17sqm., 1-2bedroom with 40sqm.; 3bedroom with 60-80sqm. and price range ad low as 1.2M to 1.5M. and deliver finish, all fitted and livable but not furnish with furniture & appliances. Available from 10th floor up to 16th floor.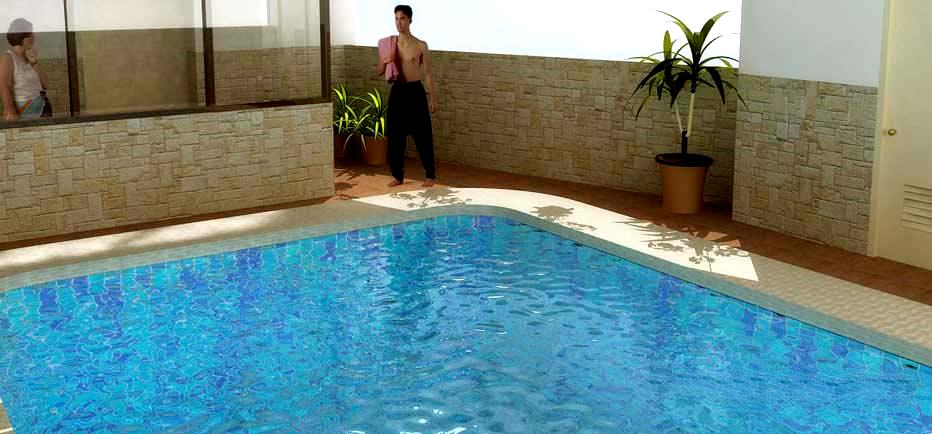 MYVAN CITYSCAPE 2
Studio Unit - Condotel
6th to 8th Floor
Condotel unit features:
- the same with residential units except for kitchen countertop and cabinets
- additional features are:
* Beds
* Coffee Table
* Water Heater
* Television with Cable / Internet
* Closet / Dresser
* Bathroom Finishes
* Wall-mounted Airconditioning Unit
* Sofa set (for Presidential & Junior Presidential Suites)
* Minibar (for Presidential Suite)
* Bathtub (for Presidential Suite)
Floor Area: 18.58 sq.m.
Price: P 1,896,720.00
Reservation fee: 20,000.00

EQUITY: 379,344.00
12 mos. to pay - 29,945.33/mo.

BALANCE: In-house Financing
5 yrs. to pay - 36,899.64/mo.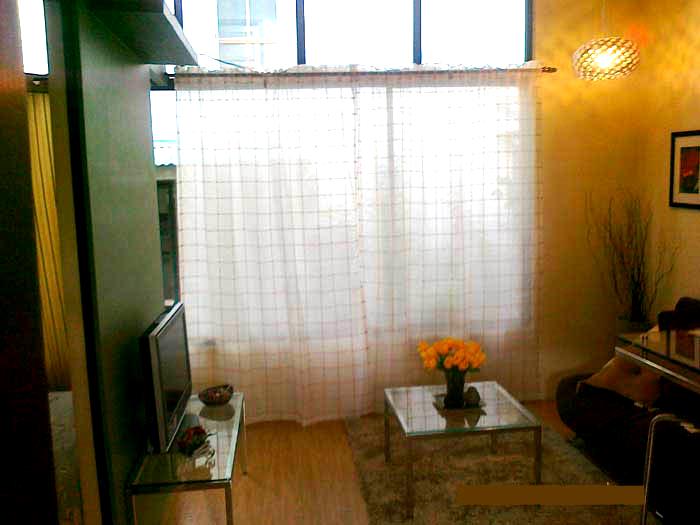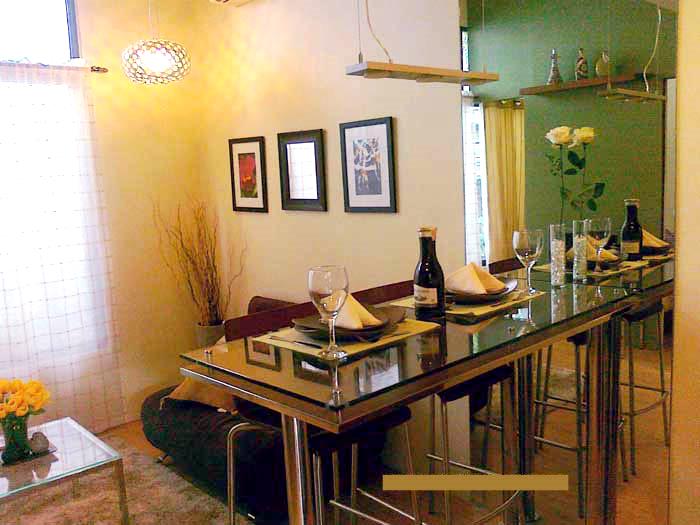 MYVAN CITYSCAPE 2
Studio Unit - Residential
10th to 17th Floor
- Completely Tiled Kitchen and
Bathroom Floors
- Granite Kitchen Countertop and
Cabinets with sink & faucet
- Balcony &; windows
- Water Closet & Lavatory
- Provision for Telephone and CATV
- Modular Type: can combine 2 or
more adjacent units for 2 or more
bedrooms.
Floor Area: 18.30 sq.m.
Price: 1,510,644.24
Reservation fee: 20,000.00

EQUITY: 302,128.85
12 mos. to pay - 23,510.74/mo.

BALANCE: In-house Financing
5 yrs. to pay - 29,388.75/mo.
Interior Model Design ( Pls. click to zoom )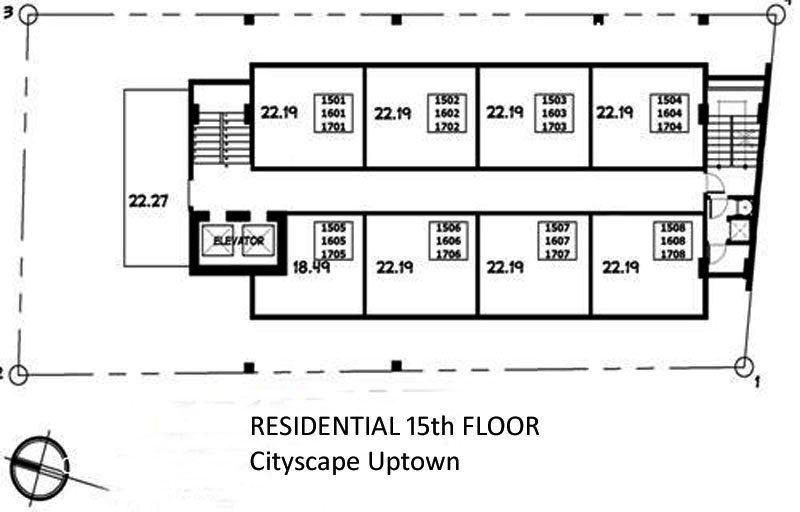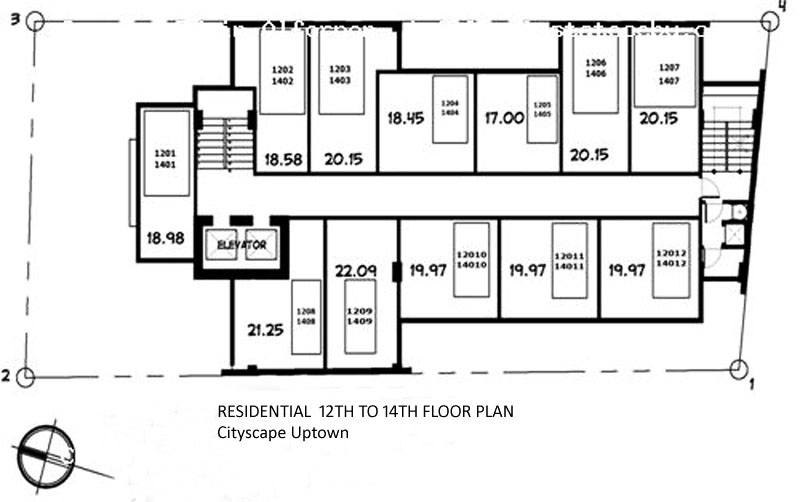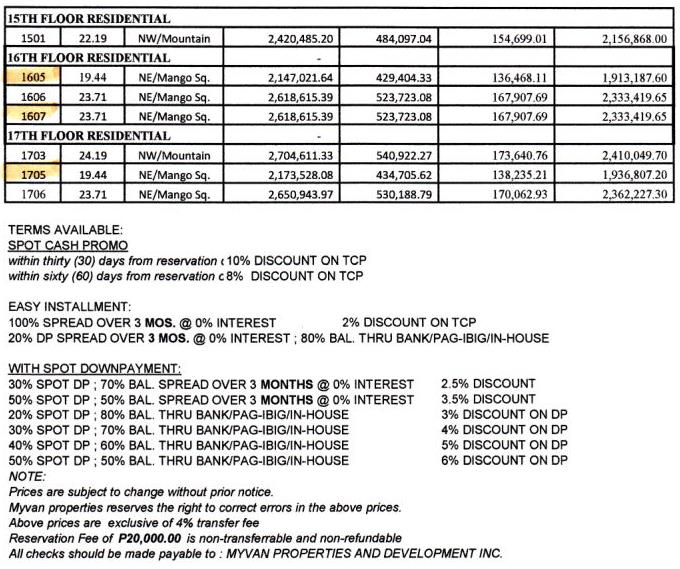 UPDATED AS OF NOVEMBER 09, 2016
PROMO SIMILAR TO RENT TO OWN!
KINDLY REFER THE UPDATED
PRICELIST BELOW!
IMPORTANT REMINDERS:
WE DON'T HAVE RENT TO OWN IN CEBU ANYMORE. FOR THE CHEAPEST CEBU
R
EADY
F
OR
O
CCUPANCY, YOU NEED TO SECURE AT LEAST PHP 400,000.00 CASH ON HAND TOGETHER WITH LOAN GUARANTEE COMING FROM BANK/PAG-IBIG IF YOU LIKE TO MOVE IN THE UNIT RIGHT AWAY.
FOR BUYER'S WHO CAN'T AFFORD YET TO BUY THE
RFO
UNIT I MAY SUGGEST TO PREFER GET THE PRE-SELLING ONE, DUE TO LONG TERM EQUITY/DOWNPAYMENT THAT SURELY YOU CAN AFFORD IT. ONCE THE THIRD MACTAN BRIDGE WILL BE FINISHED BY YEAR 2022 ABSOLUTELY ALL REAL ESTATE PROPERTIES IN CEBU BECOME VERY EXPENSIVE AND THE POSSIBILITY OF NO MORE HOUSING SUBDIVISION, ONLY CONDOMINIUM MAY THE PROJECTS DURING THAT TIME
.
20 YEARS OF SOLID SELLING EXPERIENCED WITH GOOD TRACK RECORD AS ONE OF THE TOP SELLER IN CEBU!
"FOR FREE COMMON SITE TRIPPING VEHICLE THE BUYER MUST INFORM ME AT LEAST ONE DAY AHEAD ( using develpoer's vehicle). FOR A PERSONAL AND EXCLUSIVE SITE TRIPPING BUT THE BUYER DON'T HAVE CAR, HE/SHE MIGHT PAY THE MINIMAL COST OF FUEL EXPENSES ( to be refunded once will reserve a unit ) EXCLUSIVE SITE VIEWING."
BE AWARE OF THE PRICE HIKE IF YOU CAN'T RESERVE NOW!
I'M NOT OVERPRICING HERE FOR 19 YEARS!
Provider For All Types Of Affordable Cebu Real Estate Properties, House and Subdivisions, Lowcost Housing and Condominiums For Sale!