THE PRE-SELLING ANNOUNCEMENT!
MODEL UNIT P ( Inner Unit )
Lot Area: 66 square meters
Floor Area: 81 square meters
3 Bedrooms
3 Toilet & Bath
Living room, dining and kitchen
Modular kitchen cabinets
Granite kitchen countertop
Service area
Garage
Balcony
Individual gates that provide privacy
Total Contract Price: Php 8,196,000.00 (OPTION 3)
Reservation Fee: 50,000.00 ( non-refundable & non-transferrable )

TERMS OF PAYMENT

Option 1: Spot cash payment entitle of 1% discount.

Option 2: Spot Equity
20% equity: Php 1,639,200.00 (entitle of 1% discount)

80% Balance: Php 6,556,800.00 loanable to Bank (Security Bank & Wealthbank)
20 years to pay = Php 48,885.00 per mo.
15 years to pay = Php 57,116.00 per mo.
10 years to pay = Php 74,451.00 per mo.

Transfer Fee: Php 202,500.00 (to be paid by buyer)

.
Remarkable urban living style at the heart of the City of Cebu, Philippines.

Experience and feel the gentle fresh air in this haven with a house and lot package for sale at North 8 Residences . Enjoy viewing the nature's beauty of green in Cebu City. Its gently flat terrain set against a stunning backdrop of mountains makes it the perfect place for you without worrying of floods. Located right along the 10 meters road right of way, to ensure your driving comfortability .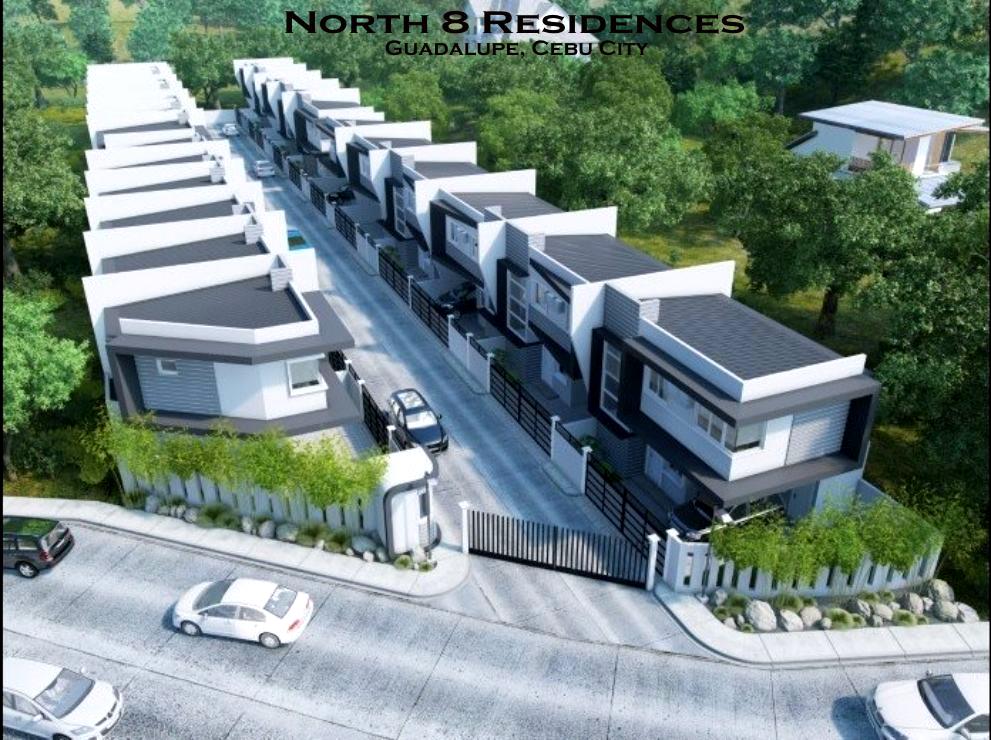 It is just minutes away from the commercial and leisure centers like Church, Schools, Hospitals, Banks, Malls & Restaurants of Cebu City.
All units with space for a pocket garden and greenery and corner units have a Lanai with space for side garden.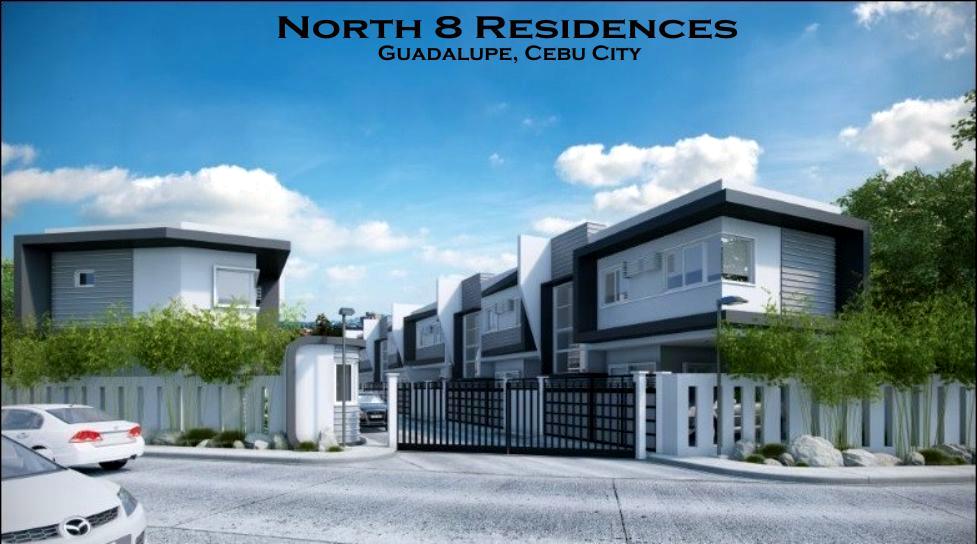 UNIT FEATURES:
• 3-bedroom and 4-Bedroom layout available with 3 toilet & baths
• Living room, dining and kitchen
• Powder-coated aluminum frame windows with screen
• Modular kitchen cabinets
• Granite kitchen countertop
• Provisions for air conditioning in the living and dining rooms and all bedrooms
• Provisions for Telephone and TV/CATV in all bedrooms and living room
• Provisions for water heaters in all second floor bathrooms
• Ample windows for light and ventilation
• Individual meter for water and power utilities
• Service area
• Garage
• Individual gates that provide privacy
• All units with space for a pocket garden and greenery
• Corner units have a Lanai with space for side garden
• Smoke detectors & fire extinguisher
• Bugati PPR pipes for all plumbing and water lines
• Rainwater tank reservoir for sustainable domestic uses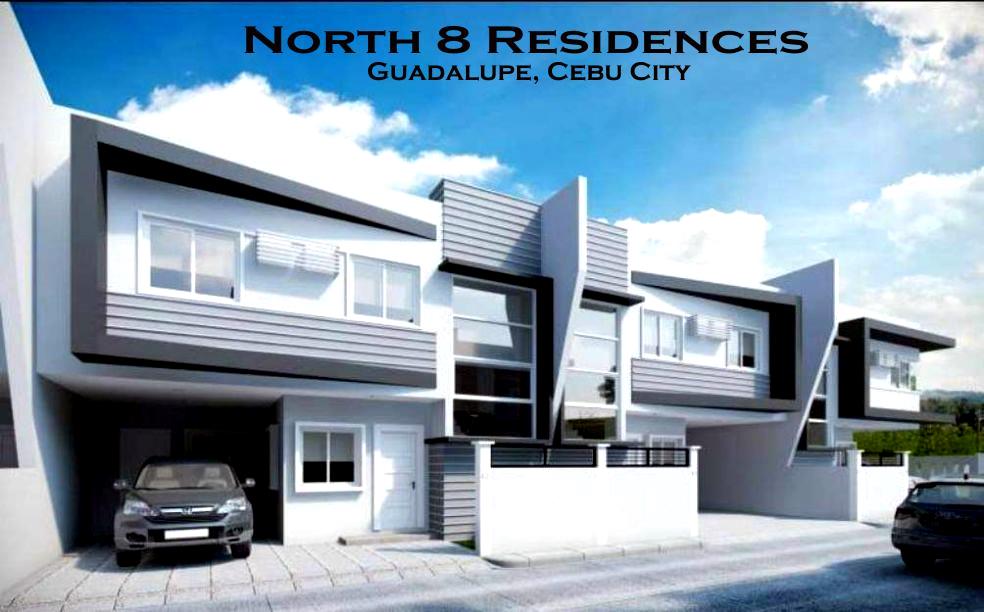 PAYMENT TERMS:
OPTION 1: SPOT CASH PAYMENT
Merit 1% discount from TCP if paid within 30 days
OPTION 2: IN HOUSE FINANCING / DEFERRED CASH
Reservation Fee: P50, 000.00 (Non-Refundable / Non-Transferable).
30% Down payment paid in 6 mos. No Interest.
Balance : 70% payable in 9 equal monthly installments (0% Interest).
OPTION 2: BANK FINANCING

Reservation Fee: P50, 000.00 (Non-Refundable / Non-Transferable)
AMENITIES:
• 10-meter wide Main Access Road with sidewalk
• 6 to 8-meter wide Main Subdivision Road
• Landscaped Main Entrance Gate and Guard House
• Perimeter Fence
• Cemented Roads
• Curbs and Gutters
• MCWD Water Distribution System
• Underground Drainage System
• Underground Electrical, Telephone and Cable TV System
• 24-hour Security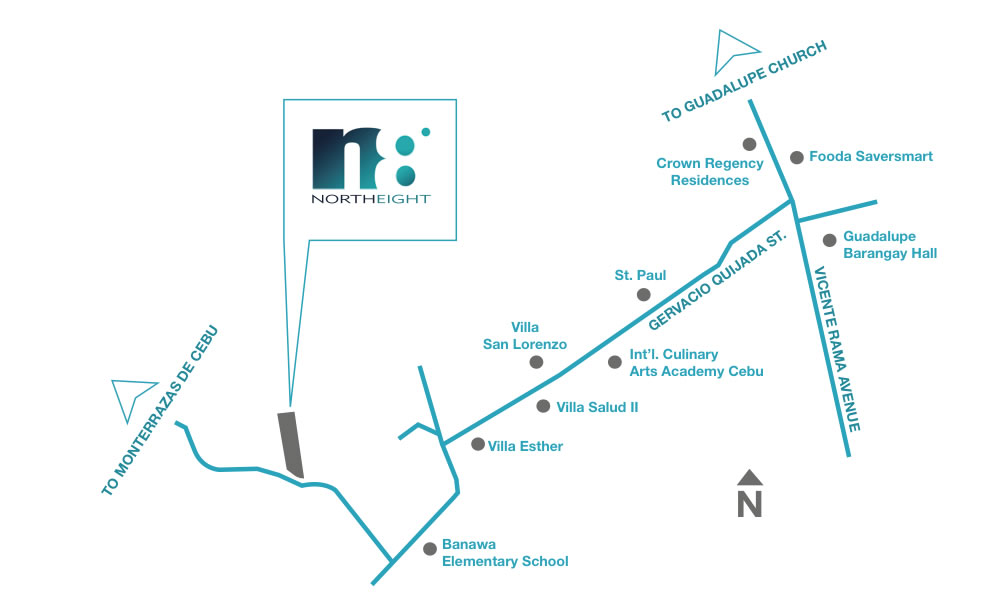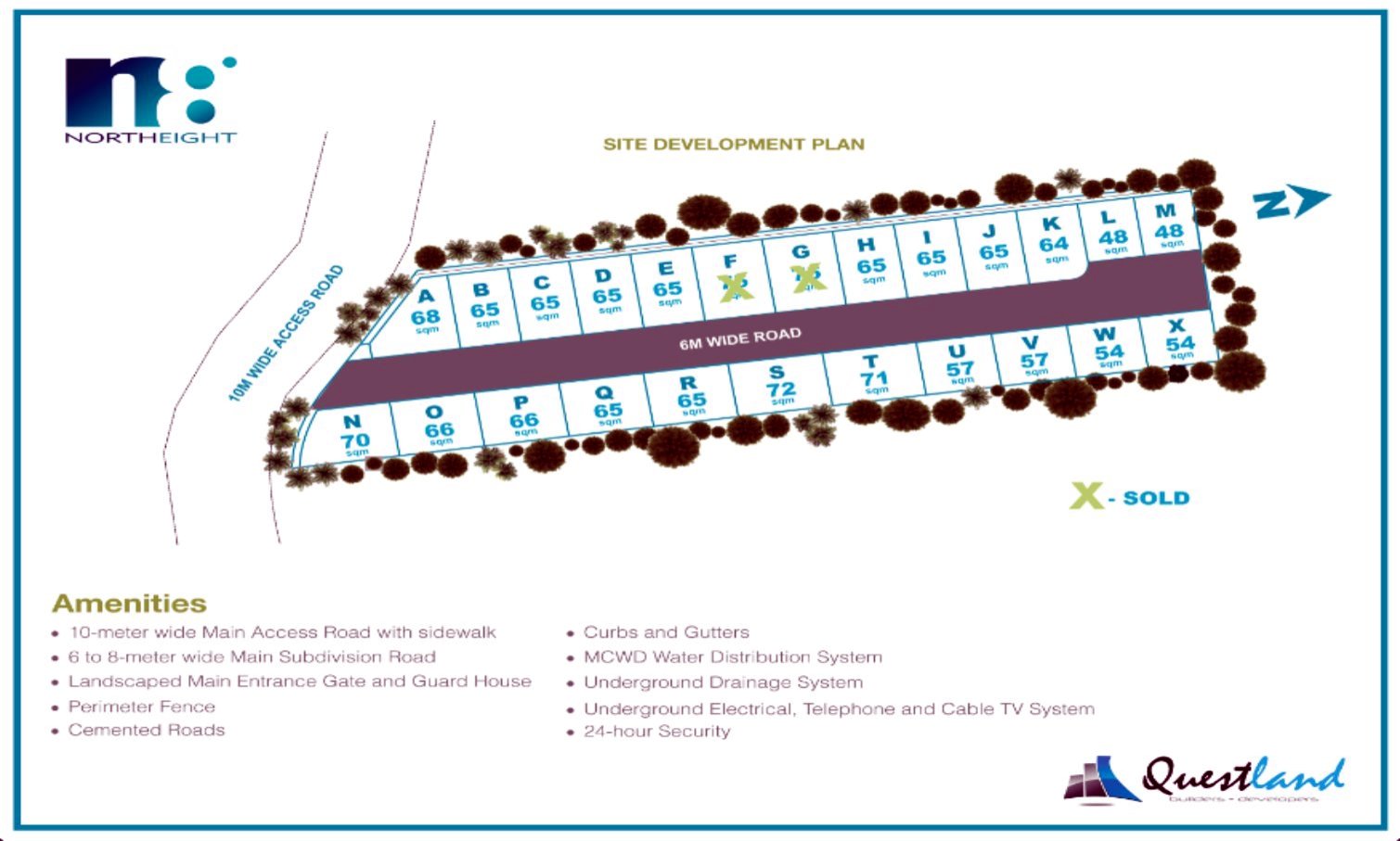 UPDATED SITE PLAN AS OF JUNE 19, 2021
ABSOLUTE BEST IN CEBU CITY HOUSE AND LOT PACKAGE FOR SALE!
SAMPLE OF HOUSE INTERIOR DESIGNS BELOW. BUYER HAVE AN OPTION TO CHOOSE A TILE COLOR SET BY THE DEVELOPER.


X
X - SOLD OUT UNIT
X
X
X
X
X
X
X
X
X
X
X
X
X
X
X
X
X
X
Guadalupe, Cebu City
UPDATED AS OF JUNE 19, 2021
North 8 Residences Guadalupe Cebu City
X
X
IMPORTANT REMINDERS:
WE DON'T HAVE RENT TO OWN IN CEBU ANYMORE. FOR THE CHEAPEST CEBU
R
EADY
F
OR
O
CCUPANCY, YOU NEED TO SECURE AT LEAST PHP 400,000.00 CASH ON HAND TOGETHER WITH LOAN GUARANTEE COMING FROM BANK/PAG-IBIG IF YOU LIKE TO MOVE IN THE UNIT RIGHT AWAY.
FOR BUYER'S WHO CAN'T AFFORD YET TO BUY THE
RFO
UNIT I MAY SUGGEST TO PREFER GET THE PRE-SELLING ONE, DUE TO LONG TERM EQUITY/DOWNPAYMENT THAT SURELY YOU CAN AFFORD IT. ONCE THE THIRD MACTAN BRIDGE WILL BE FINISHED BY YEAR 2022 ABSOLUTELY ALL REAL ESTATE PROPERTIES IN CEBU BECOME VERY EXPENSIVE AND THE POSSIBILITY OF NO MORE HOUSING SUBDIVISION, ONLY CONDOMINIUM MAY THE PROJECTS DURING THAT TIME
.
20 YEARS OF SOLID SELLING EXPERIENCED WITH GOOD TRACK RECORD AS ONE OF THE TOP SELLER IN CEBU!
"FOR FREE COMMON SITE TRIPPING VEHICLE THE BUYER MUST INFORM ME AT LEAST ONE DAY AHEAD ( using develpoer's vehicle). FOR A PERSONAL AND EXCLUSIVE SITE TRIPPING BUT THE BUYER DON'T HAVE CAR, HE/SHE MIGHT PAY THE MINIMAL COST OF FUEL EXPENSES ( to be refunded once will reserve a unit ) EXCLUSIVE SITE VIEWING."
BE AWARE OF THE PRICE HIKE IF YOU CAN'T RESERVE NOW!
I'M NOT OVERPRICING HERE FOR 19 YEARS!
Provider For All Types Of Affordable Cebu Real Estate Properties, House and Subdivisions, Lowcost Housing and Condominiums For Sale!