SAN MARINO RESIDENCES FOR CEBU REAL ESTATE
J. De Vera St., North Reclamation, Cebu City
AVAIL

THE

PRE-SELLING

PRICE

ADVANTAGE!!!

DATE

COMPLETION:

4TH

QUARTER

OF

2014

The latest and newest Cebu Real Estate Development by Landtraders World Properties Corporation. It launch San Marino Condominium as first vertical project of a 20 storey residential condominium nearby SM MALL CEBU, a kind of an emerging property-development company providing a choice of themed and value-based real estate products spanning from economic to upscale residential communities.
As a responsible developer drives market-place innovation, then struggle to deliver the most pleasant experience, and prestige of, provide a better home ownership to individuals and families particularly to Cebuano people.
In San Marino we consider for quality of life which is our priority and a solid investment that generates optimum returns assurance that incorporate cutting edge technologies in both construction and implementation adopting best practices in managing and developing real estate assets for the greater benefit of the property-investing community.
We have confidence and integrate corporate social responsibility in every project that we undertake and place our highest regard and respect for the environment as follows:
* planning to project turnover
*to ensure and preserve
*enhance the natural conditions of the site as being developed.
The company is committed to provide the best value and customer satisfaction after every purchase of San Marino Residences unfolds the best in urban living where the good life crackles just outside your shelves a shopping, dining and unwinding are literally footsteps away from where you live.

When living San Marino you are surrounded by comforting views of Cebu s oceanfront s and mountains on the outside while decked with modish finishes and in-built spaces on the inside and a personal breather that will welcome you back from the city s energy and glittering life below.

Building Features
*Three-level parking
* 24- hour security
* Twin hi-speed elevator system
* Fire protection & automatic sprinkler system
* Fire alarm system
* 100% back-up generator
* Centralized individual mailboxes
* Garbage chutes in every floor
* Covered roof deck for special events/functions
* Provision for air-con, telephone & cable TV
* Ready for WIFI connections
* Elegant lobby & reception counter
* Covered/paved driveway for passenger drop-off
with landscaped garden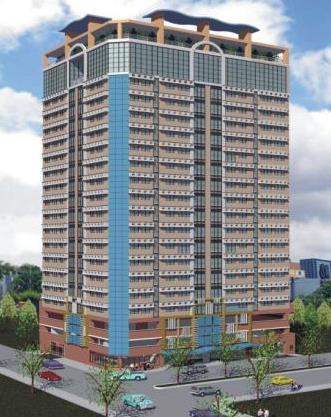 TOP VIEW OF STUDIO UNIT FOR 21 & 22 SQ.M.
INTERIOR UNIT DESIGNS SIMPLY CLICK ALL IMAGES TO MAKE IT LARGER!
Unit Features
*Ceramic tiles on living, dining, kitchen and T&B areas
*Finished painted interior wall
*Wooden panel main door
*PVC door on T & B
*Exhaust Fan on T & B
*Aluminum sliding windows with clear glass
*Complete electrical switches and convenient outlet in living, dining, kitchen and T & B areas
*Provision for aircon with outlets
*Provision for cable TV and telephone line
*T & B complete with shower, water closet, lavatory, toilet paper holder & towel bar

Accessibility
*Just right across SM City Cebu
*Walking distance to the domestic seaport
*20 minutes to the domestic and international airport
*Accessible by PUJs and taxi cabs
*5-10 minutes to major universities

ESTIMATED SAMPLE COMPUTATION FOR STANDARD UNIT

Pag-ibig Financing:
Total contract price: Php 1,570,000.00

Equity: 470,000.00
Less reservation fee: 30,000.00 ( Non-refundable & transferable )
Net equity: 540,000.00 payable within 12 months @ 45,000.00 per month

Balance: 1,000,000.00 ( loanable to BANK / PAG-IBIG )
PAG-IBIG: 7.985% interest rate per anum
5 years to pay = 20,269.22/mo.
10 years to pay = 12,124.83/mo.
15 years to pay = 9,547.83/mo.
20 years to pay = 8,355.07/mo.

BANK: 5.5% interest rate per annum
5 years to pay = 18,101.16/mo.
10 years to pay = 10,852.63/mo.
15 years to pay = 8,170.83/mo.
20 years to pay = 6,878.87/mo.


Note: All ammortizations above are exclusive of Mortgage & Fire Insurance.
Pls. click all images below!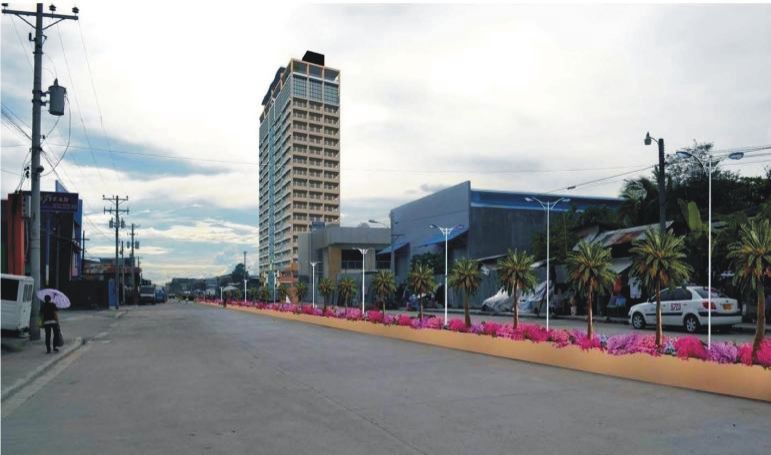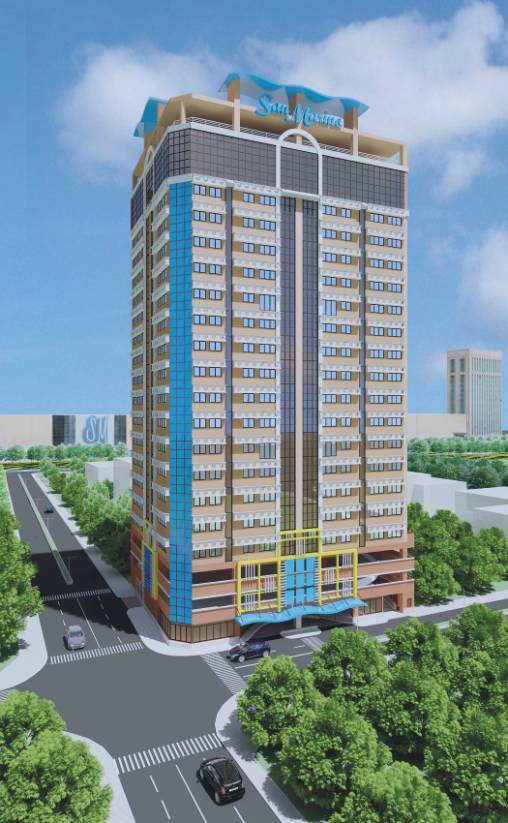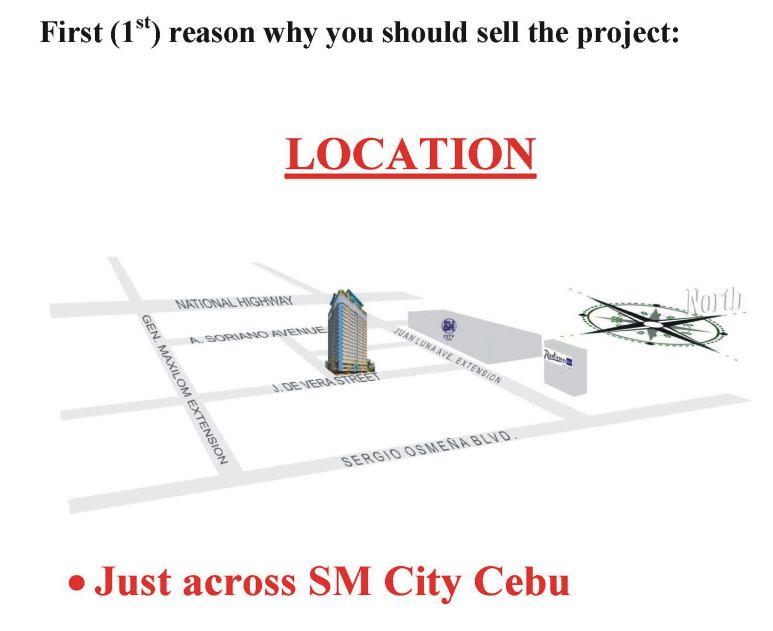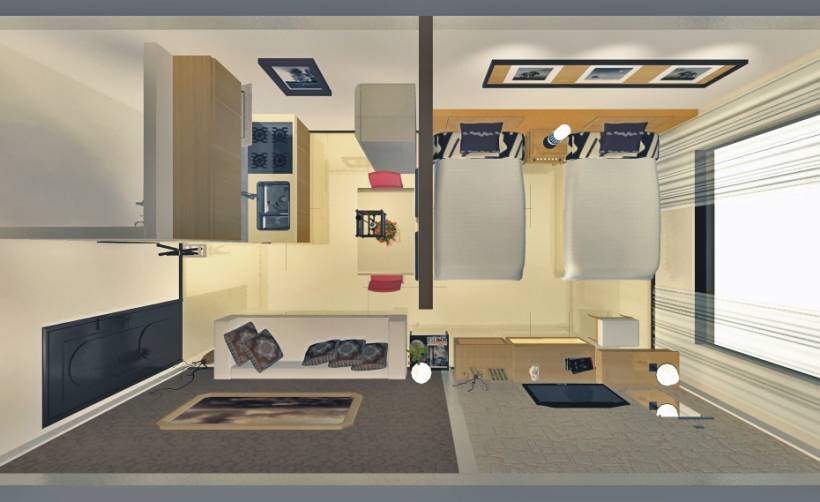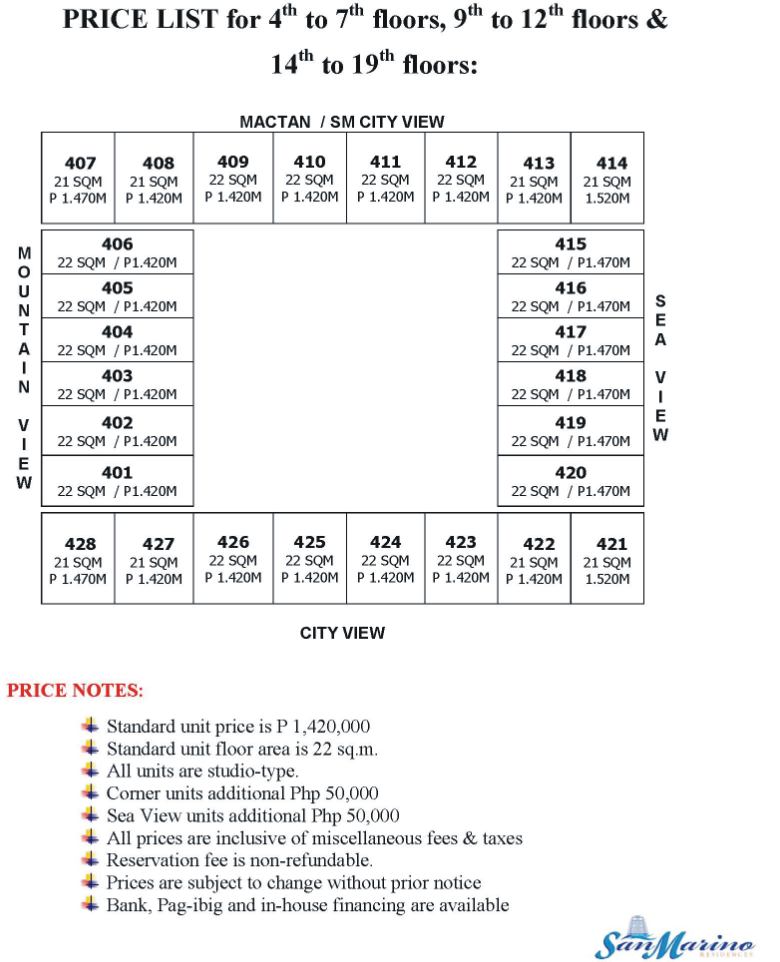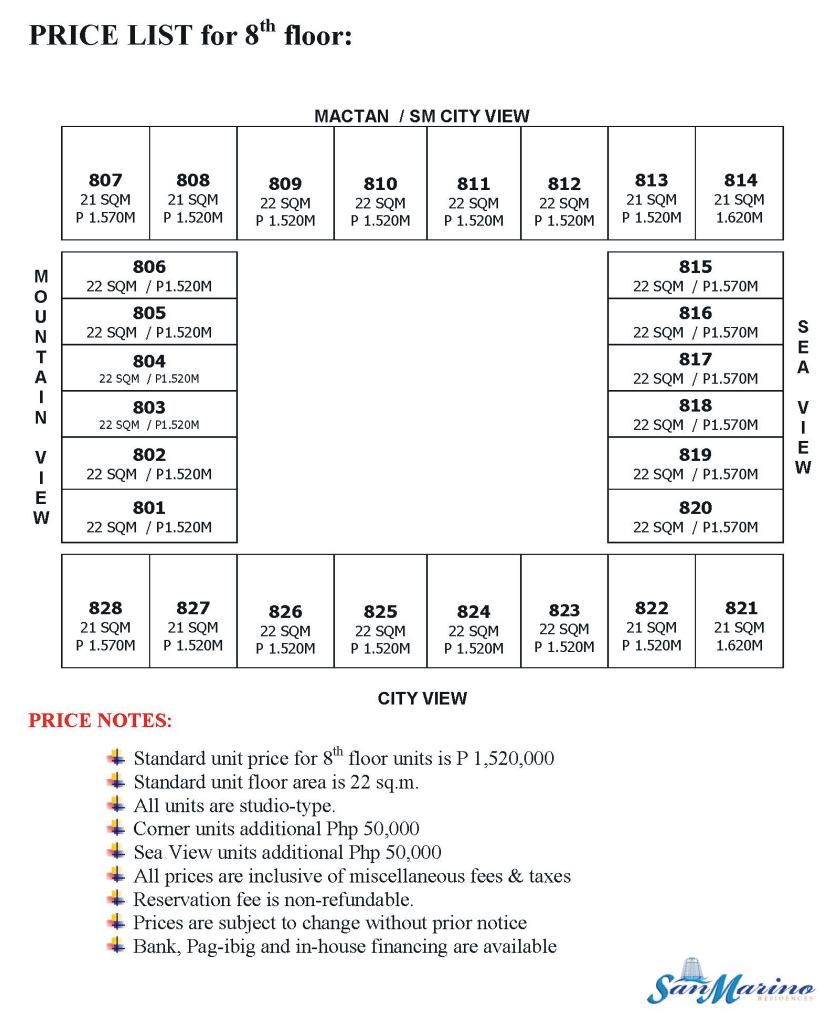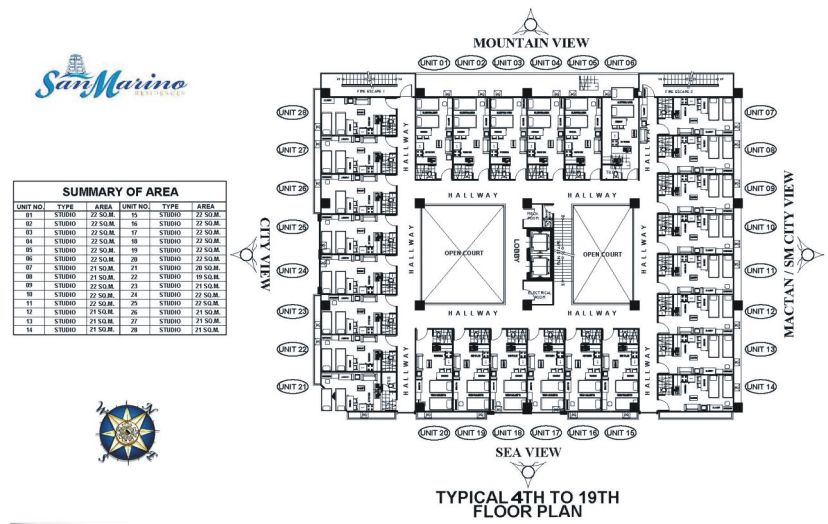 UPDATED PRICING AS OF AUGUST 28, 2014
IMPORTANT REMINDERS:
WE DON'T HAVE RENT TO OWN IN CEBU ANYMORE. FOR THE CHEAPEST CEBU
R
EADY
F
OR
O
CCUPANCY, YOU NEED TO SECURE AT LEAST PHP 400,000.00 CASH ON HAND TOGETHER WITH LOAN GUARANTEE COMING FROM BANK/PAG-IBIG IF YOU LIKE TO MOVE IN THE UNIT RIGHT AWAY.
FOR BUYER'S WHO CAN'T AFFORD YET TO BUY THE
RFO
UNIT I MAY SUGGEST TO PREFER GET THE PRE-SELLING ONE, DUE TO LONG TERM EQUITY/DOWNPAYMENT THAT SURELY YOU CAN AFFORD IT. ONCE THE THIRD MACTAN BRIDGE WILL BE FINISHED BY YEAR 2022 ABSOLUTELY ALL REAL ESTATE PROPERTIES IN CEBU BECOME VERY EXPENSIVE AND THE POSSIBILITY OF NO MORE HOUSING SUBDIVISION, ONLY CONDOMINIUM MAY THE PROJECTS DURING THAT TIME
.
20 YEARS OF SOLID SELLING EXPERIENCED WITH GOOD TRACK RECORD AS ONE OF THE TOP SELLER IN CEBU!
"FOR FREE COMMON SITE TRIPPING VEHICLE THE BUYER MUST INFORM ME AT LEAST ONE DAY AHEAD ( using develpoer's vehicle). FOR A PERSONAL AND EXCLUSIVE SITE TRIPPING BUT THE BUYER DON'T HAVE CAR, HE/SHE MIGHT PAY THE MINIMAL COST OF FUEL EXPENSES ( to be refunded once will reserve a unit ) EXCLUSIVE SITE VIEWING."
BE AWARE OF THE PRICE HIKE IF YOU CAN'T RESERVE NOW!
I'M NOT OVERPRICING HERE FOR 19 YEARS!
Provider For All Types Of Affordable Cebu Real Estate Properties, House and Subdivisions, Lowcost Housing and Condominiums For Sale!