2 Storey Townhouse ( 6 Units )
Block 1, Lot 4
Lot Area: 85 sqm
Floor Area: 117 sqm
4 Bedrooms, 3 T&B, 1 Car Garage

GROUND FLOOR

Living & Dining, Kitchen, Stairs, T&B, Maids Quarter

SECOND FLOOR

Master's Bedroom, Master's T&B, Bedroom1, Bedroom2, Common T&B, Hallway, Stairs, Balcony
Carport, Service Area
Total Contract Price: Php 5,943.600.00 ( non-refundable )

PAYMENT TERMS: Sample Computation
20% Equity / Downpayment = 1,148,720.00 ( payable up to 18 months )
*12 months to pay 0 interest = 95,726.67/mo.
*18 months to pay with 4% interest = 66,970.49/mo.

80% Balance = 4,754,880.00 Loanable to Bank ( BPI rate @ 6% int. rate One year fixed )

*20 years to pay = 34,065.44/mo. ( Gross income required = 113,550.00 )

San Miguel Residences is a pocket size housing project as one of the best property in Cebu with house and lot subdivision package for sale. It is located in Apas, Lahug, Cebu City. Comprises of six cluster townhouse with individual entrance gate. Exclusive and limited unit of townhouse project in Cebu, idealy for middle income family whom are wishing to buy a house that they can enjoy the convenient and comfortable living with good accessibilty to any point destination in Cebu City.
This is walking distance to I.T. Park and Waterfront Hotel Cebu, 3 min. drive to University of Southern Philippines, 5 min. to Gaisano Country Mall, 5 min. to Jy Square, 5 min. Saint Therese Church and 7 min. to Ayala Mall.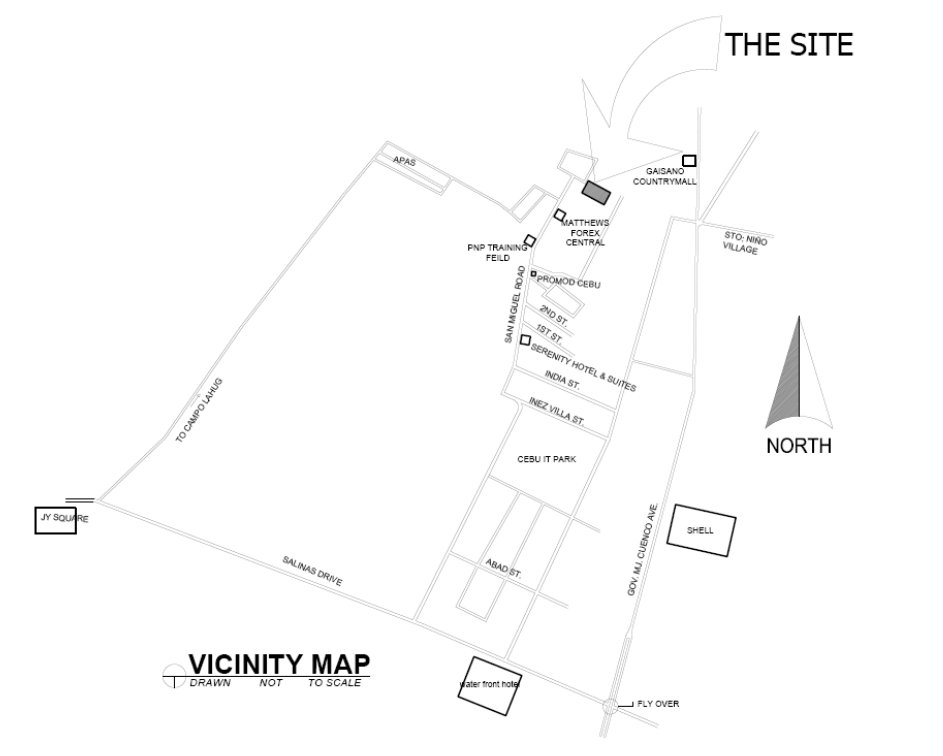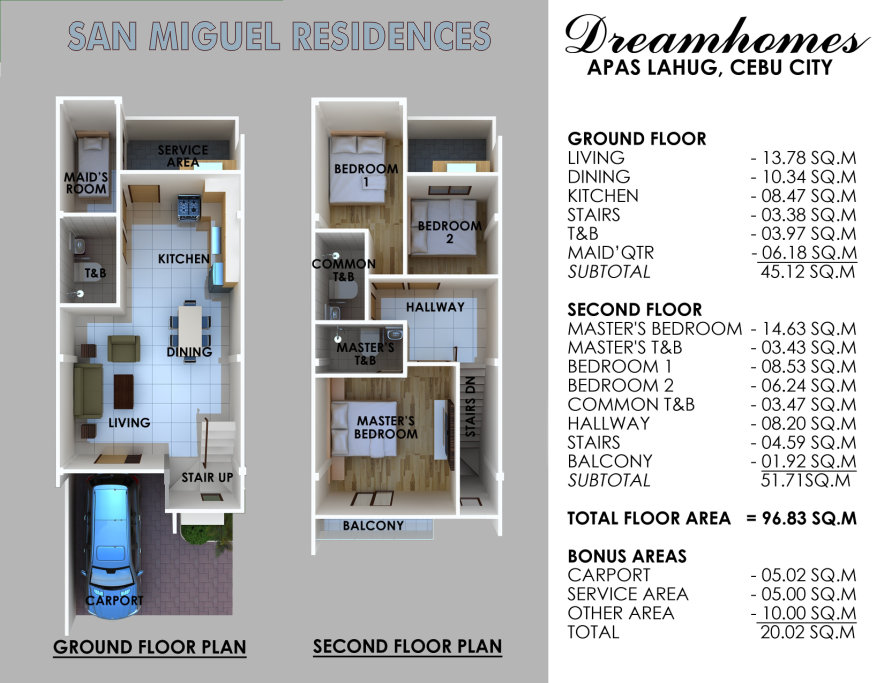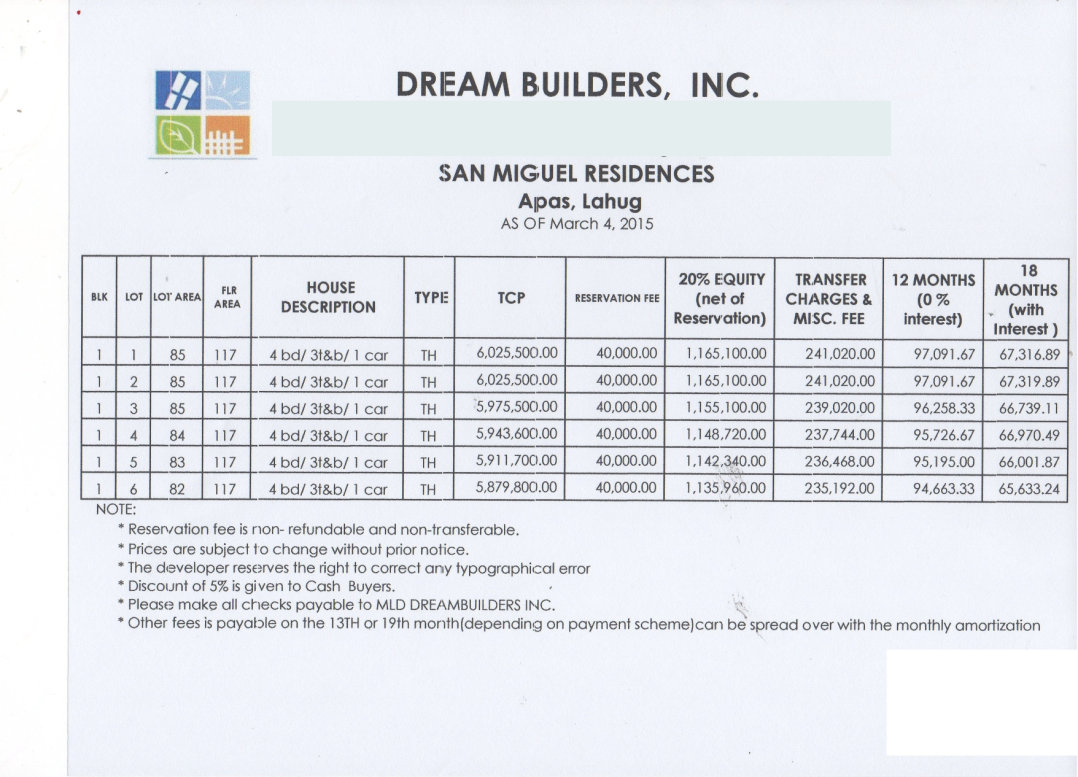 UPDATED AS OF MARCH 30, 2015
SAN MIGUEL RESIDENCES

Apas Lahug, Cebu City
UPDATED AS OF MARCH 30, 2015

IMPORTANT REMINDERS:
WE DON'T HAVE RENT TO OWN IN CEBU ANYMORE. FOR THE CHEAPEST CEBU
R
EADY
F
OR
O
CCUPANCY, YOU NEED TO SECURE AT LEAST PHP 400,000.00 CASH ON HAND TOGETHER WITH LOAN GUARANTEE COMING FROM BANK/PAG-IBIG IF YOU LIKE TO MOVE IN THE UNIT RIGHT AWAY.
FOR BUYER'S WHO CAN'T AFFORD YET TO BUY THE
RFO
UNIT I MAY SUGGEST TO PREFER GET THE PRE-SELLING ONE, DUE TO LONG TERM EQUITY/DOWNPAYMENT THAT SURELY YOU CAN AFFORD IT. ONCE THE THIRD MACTAN BRIDGE WILL BE FINISHED BY YEAR 2022 ABSOLUTELY ALL REAL ESTATE PROPERTIES IN CEBU BECOME VERY EXPENSIVE AND THE POSSIBILITY OF NO MORE HOUSING SUBDIVISION, ONLY CONDOMINIUM MAY THE PROJECTS DURING THAT TIME
.
Authorizing to Sell Certificate of Registration: HLURB-CVRFO-A-12/17-0198 LUZDIMINDA C. LABISTE

18 YEARS SOLID SELLING EXPERIENCED WITH GOOD TRACK RECORD AND ONE OF THE TOP SELLER IN CEBU!
"FOR FREE COMMON SITE TRIPPING VEHICLE THE BUYER MUST INFORM ME AT LEAST ONE DAY AHEAD ( If the developer has a service vehicle). IF THE BUYER LIKE A PERSONAL TRIPPING BUT DON'T HAVE CAR, HE/SHE MIGHT PAY THE MINIMAL COST OF FUEL EXPENSES ( to be refunded once will reserve a unit ) FOR THE PRIVATE AND EXCLUSIVE SITE VIEWING."
BE AWARED OF THE PRICE HIKE IF YOU CAN'T RESERVE EARLIER. BET THE PRICE INCREASE NOW!
I CAN GUARANTEE THAT
I DON'T OVERPRICE
AND YOU MAY GET
THE BEST PROPERTY
.
FOR BEST CEBU CITY HOUSING SUBDIVISION ...
KINDLY CLICK HERE
Provider For All Types Of Affordable Cebu Real Estate Properties, House and Subdivisions, Lowcost Housing and Condominiums For Sale!
TO GOD BE THE GLORY!
Copyright © 2011 - 2022, Cebuhousing Webmaster. All rights reserved.
Powered by: www.cebuhousing.net



Disclaimer: All info, data, figure, discount & picture contained in this website are for representation or reference only. We reserve the right to correct any typographical errors.
Just enjoy your search here and hopefully found the right properties for housing, condominium, beautiful & elegant homes in Cebu, Philippines!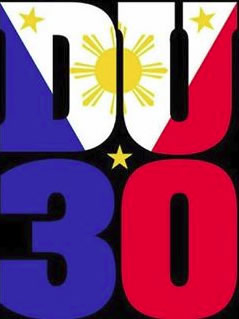 BUSINESS DAYS: Monday to Sunday
BUSINESS TIME:
8am to 5pm

For a site tripping book one day ahead!

For unit reservation payment at any time during office hour.

FOR BUYER'S WHO WERE ABLE TO GET ANY REAL ESTATE UNITS FROM ME...I MAY GIVE YOU THE LIFE TIME SERVICE WARRANTY.
(exept monetary matters, because we are not allowed.)
FOR SECURE
INVESTMENT
YOU MUST
HAVE YOUR
LICENSE
BROKER/
AGENT WITH
CRIDIBILTY
SUCH AS
HE/SHE HAS
LEGIT
WEBSITE.
DON'T
REALY
TRUST
PEOPLE
IN SOCIAL
MEDIA, TO
AVOID DREAM
LOST!