SEDONA PARC AYALA CEBU CONDOMINUIM - BEST CEBU REAL ESTATE CONDOMINIUM
Cebu Business Park, Ayala Project, Cebu City
1 Bedroom : 50 sq.m. - Ph 5,069,000 Pesos
Sedona Parc a Residential Condominium which is located along Leyte Loop,beside Park Tower 2,and nestled in the privacy of a private enclave of the Cebu Business Park,Cebu City.
Sedona Parc,a stylish residential condominium of only 114 condo units that offers an upscale lifestyle inspired by thought and design,in a tranquil and highly accessible prime parkside location.
Close to Marriot and Ayala Malls,City Sports Club,Hospitals,Private Schools,Churches and other Entertainment Centers.
Sedona Parc,Residential Condominiums,especially designed to address the needs of the discerning buyer. Designer Parkside Living. A Boutique Condominium experience.
Building Features:
*5 Podium parking levels
*2 Passenger elevators
*Automatic sprinkler and smoke detection
system in residentials and amenity areas
*Water reservoir and separate fire reserves
*Rainwater collection system
*Natural ventilation
*Sanitary disposal system
*Refuse rooms
*824-hour security
*Building maintenance by Ayala Property
Management Corporation

Amenities:
*Designer Lobby
*Private Lounge - 61 sq.m. nook for intimate
gatherings (an extension of the lobby)
*Fitness Gym - 48 sq.m.
*Function Room - 73 sq.m. opening up to pool area
*Swimming Pool - 3 lanes and 20 meters in length
*Roof Deck - 371 sq.m.
*Park - an extension of the building s amenities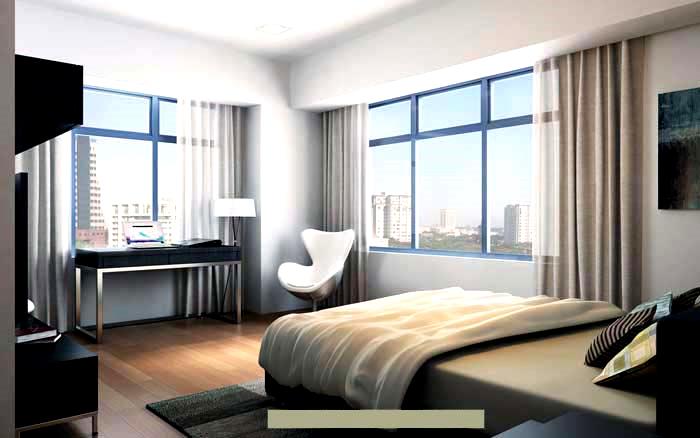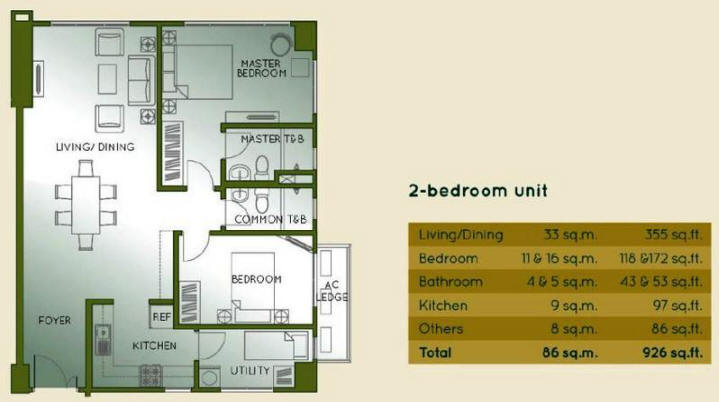 TWO BEDROOM UNIT MODEL:
Floor Area: 84 sq.m.
Total Price: Php 9,274,000.00
Parking Slot : Ph 800,000 Pesos

Reservation Fee - Ph 50,000 Pesos
Payment Terms
Cash : 10% discount,payable within 30 days
Deferred Cash : 20% down payment,80% balance in 36 months no interest
Prices and payment terms are subject to change without prior notice
Turnover for Sedona Parc is scheduled for 1st quarter 2014.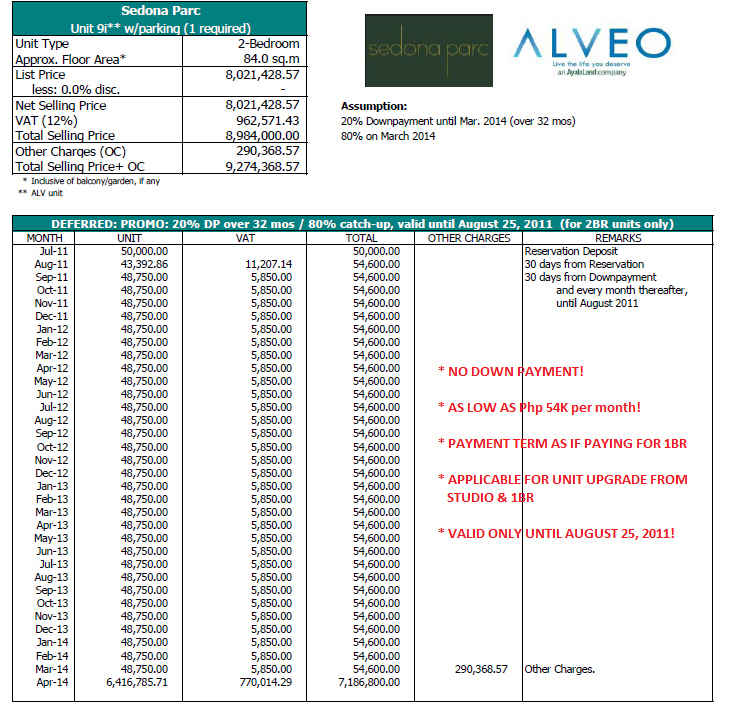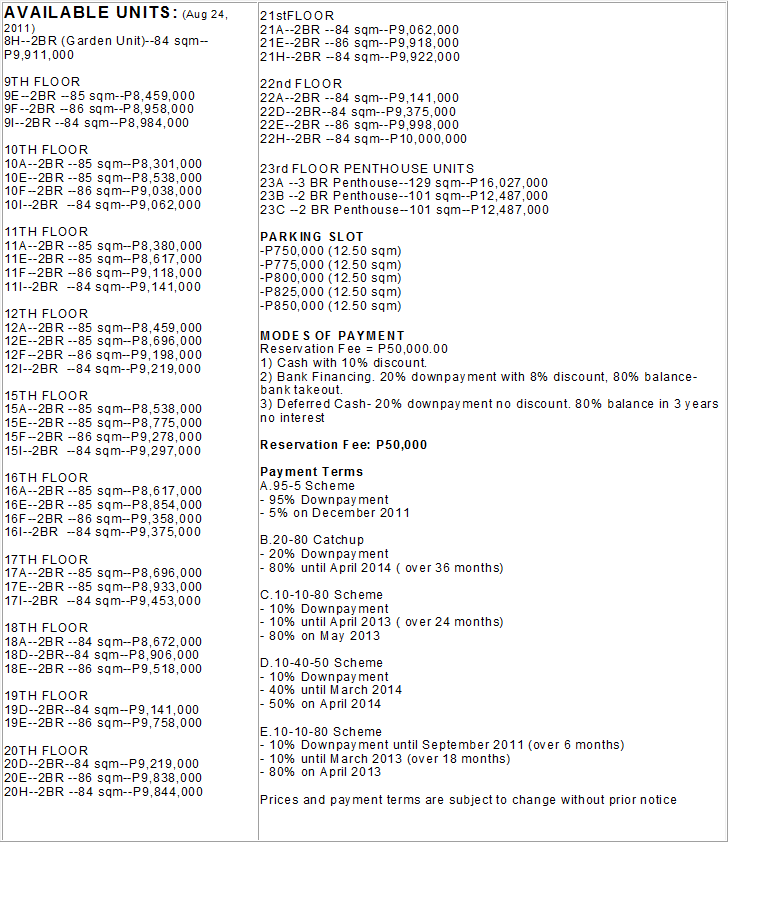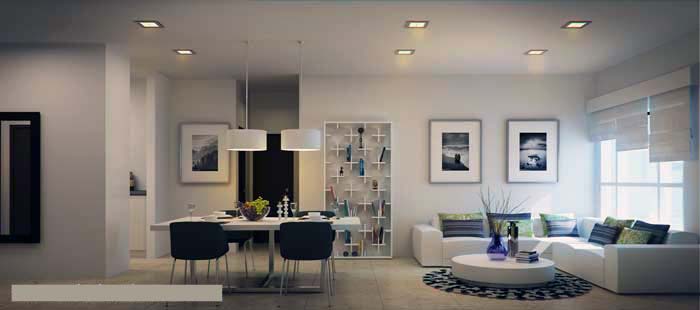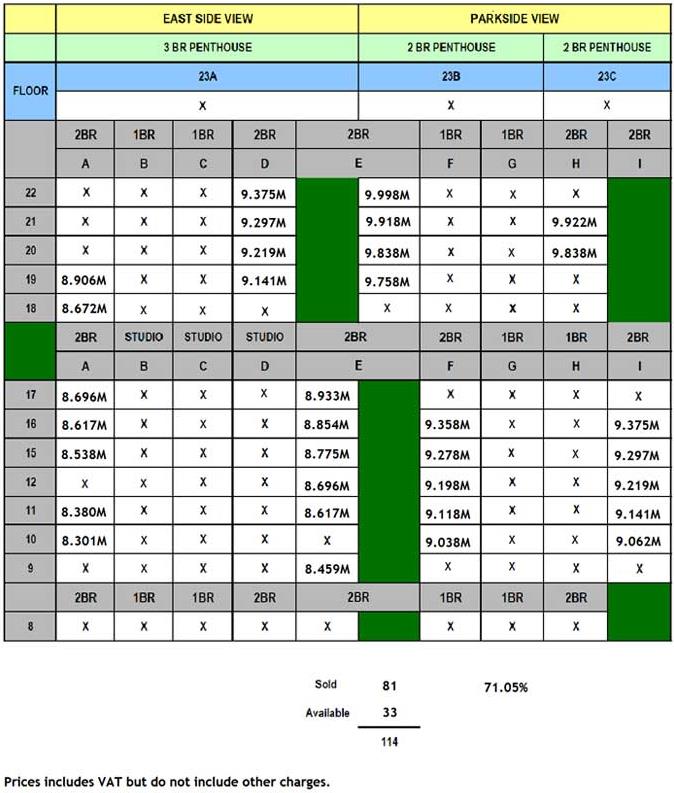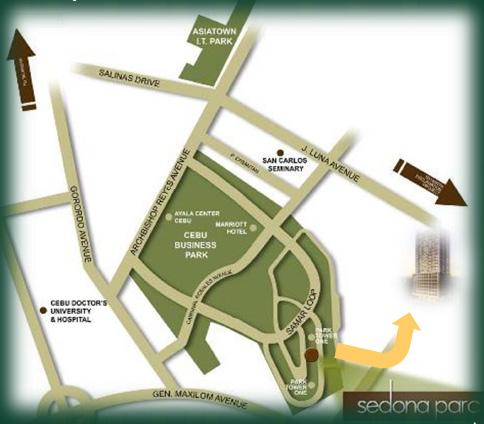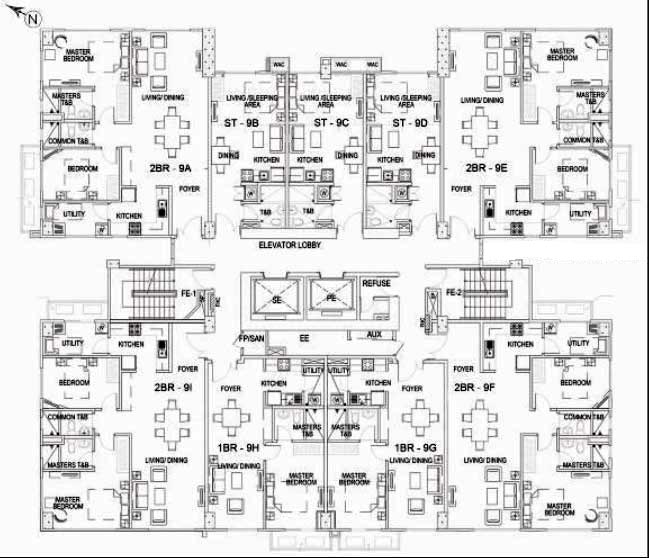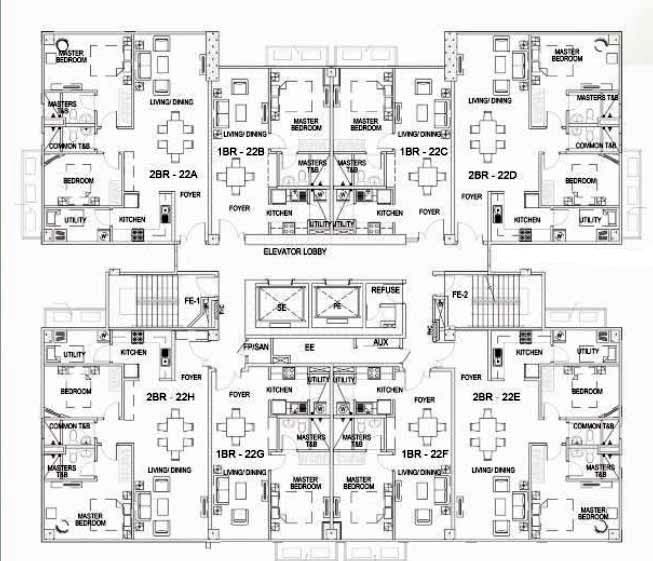 Bldg. Plan 18th to 22nd Floor
Bldg. Plan 19th to 17th Floor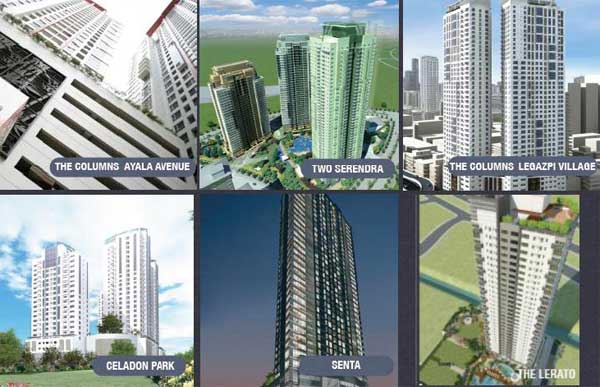 Past Successful Project of Ayala Land Company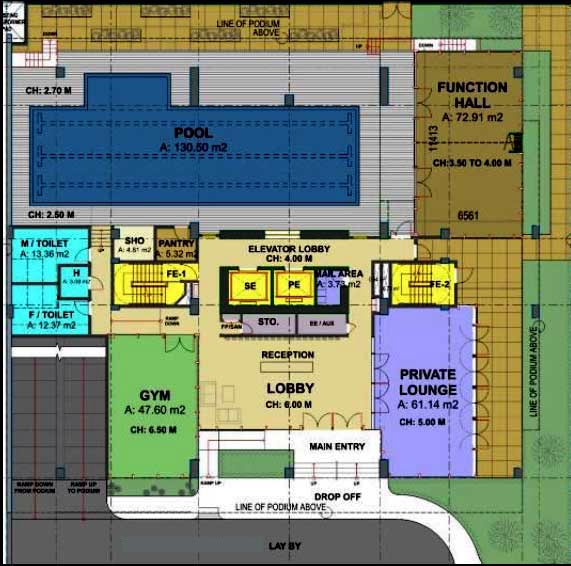 Bldg. Ground Plan ( Clickable to zoom in )
It is very accessible

to commuters like for

Taxi and Jeepney.

Five minutes away from

all businesses in Cebu City!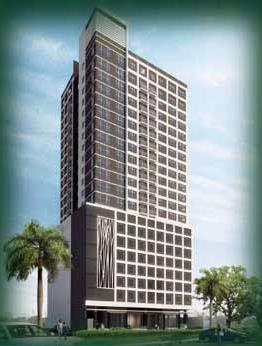 The theme and concept of Sedona Parc condominium project is a high end development of Ayala Land Company, a premier pioneer in Cebu Real Estate development. It will be completely done on the 1st quarter of 2014 and presently located within a private residential enclave of Cebu Business Park, Cebu City s most desirable address within the vicinity of Ayala Center and Terraces Mall.
Always be the same distance apart to a sprawling 3,000 sq.m. park with plush greeneries and open space. The density is low and very exclusive residential condo project with only 114 units. A better life when having private property in an exclusive area of Ayala, it always seems a caringly planned modern but well-designed interiors and amenities.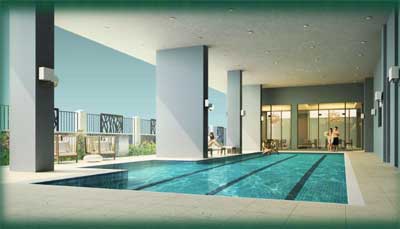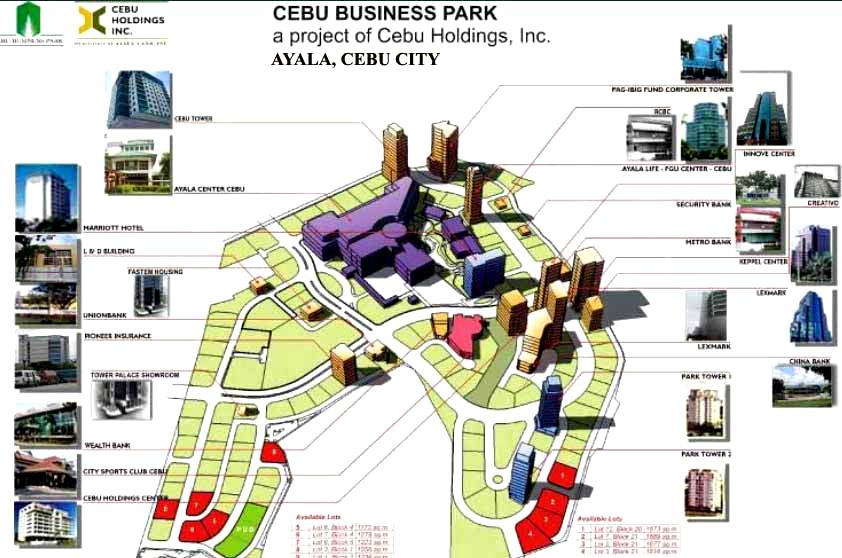 IMPORTANT REMINDERS:
WE DON'T HAVE RENT TO OWN IN CEBU ANYMORE. FOR THE CHEAPEST CEBU
R
EADY
F
OR
O
CCUPANCY, YOU NEED TO SECURE AT LEAST PHP 400,000.00 CASH ON HAND TOGETHER WITH LOAN GUARANTEE COMING FROM BANK/PAG-IBIG IF YOU LIKE TO MOVE IN THE UNIT RIGHT AWAY.
FOR BUYER'S WHO CAN'T AFFORD YET TO BUY THE
RFO
UNIT I MAY SUGGEST TO PREFER GET THE PRE-SELLING ONE, DUE TO LONG TERM EQUITY/DOWNPAYMENT THAT SURELY YOU CAN AFFORD IT. ONCE THE THIRD MACTAN BRIDGE WILL BE FINISHED BY YEAR 2022 ABSOLUTELY ALL REAL ESTATE PROPERTIES IN CEBU BECOME VERY EXPENSIVE AND THE POSSIBILITY OF NO MORE HOUSING SUBDIVISION, ONLY CONDOMINIUM MAY THE PROJECTS DURING THAT TIME
.
20 YEARS OF SOLID SELLING EXPERIENCED WITH GOOD TRACK RECORD AS ONE OF THE TOP SELLER IN CEBU!
"FOR FREE COMMON SITE TRIPPING VEHICLE THE BUYER MUST INFORM ME AT LEAST ONE DAY AHEAD ( using develpoer's vehicle). FOR A PERSONAL AND EXCLUSIVE SITE TRIPPING BUT THE BUYER DON'T HAVE CAR, HE/SHE MIGHT PAY THE MINIMAL COST OF FUEL EXPENSES ( to be refunded once will reserve a unit ) EXCLUSIVE SITE VIEWING."
BE AWARE OF THE PRICE HIKE IF YOU CAN'T RESERVE NOW!
I'M NOT OVERPRICING HERE FOR 19 YEARS!
Provider For All Types Of Affordable Cebu Real Estate Properties, House and Subdivisions, Lowcost Housing and Condominiums For Sale!