THE HERITAGE LOT ONLY MANDAUE CITY , CEBU-PHILIPPINES
Jagobiao, Mandaue City
UPDATED ON MARCH 20,2015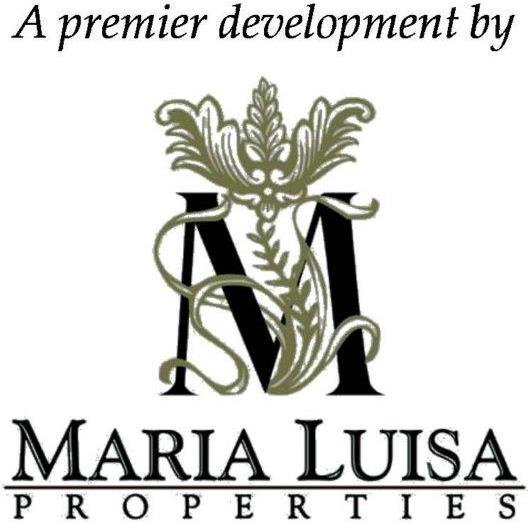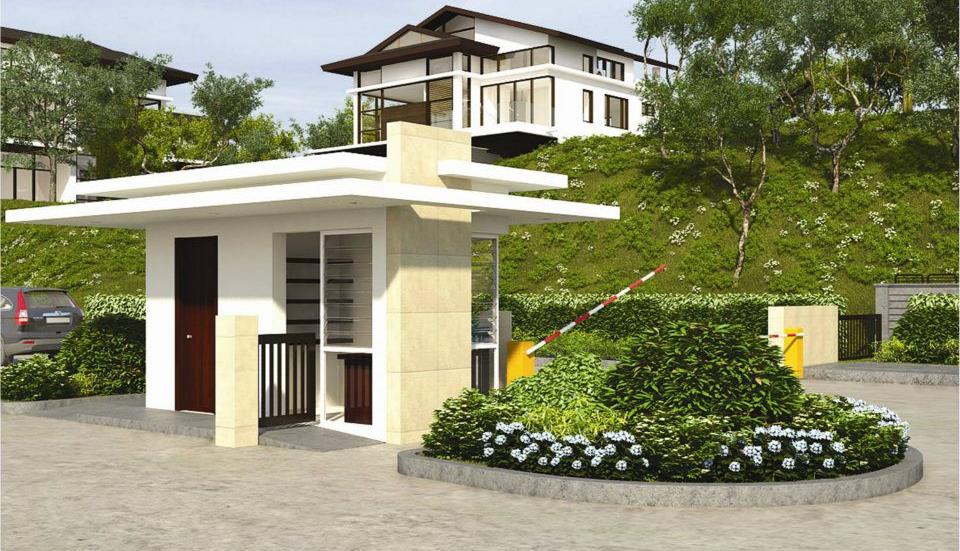 THE NEW BEGINNING TO START:
MANDAUE LOT FOR SALE IN CEBU BY MA. LUIZA DEVELOPMENT
Introducing a new kind of development in Mandaue City, Cebu, Philippines for LOT FOR SALE ONLY. It s coming from Cebu s pioneering developer conceptualizing an exclusive, new subdivision that blends the old and the new, paying homage to its history while enhancing it with the latest innovations in design. Extremely modern-day amenities such as a clubhouse, swimming pool, basketball court, fishing pond to complement the richness of the land and adding prestige to the development, which ultimately, making it an ideal place to build your home and even for investment.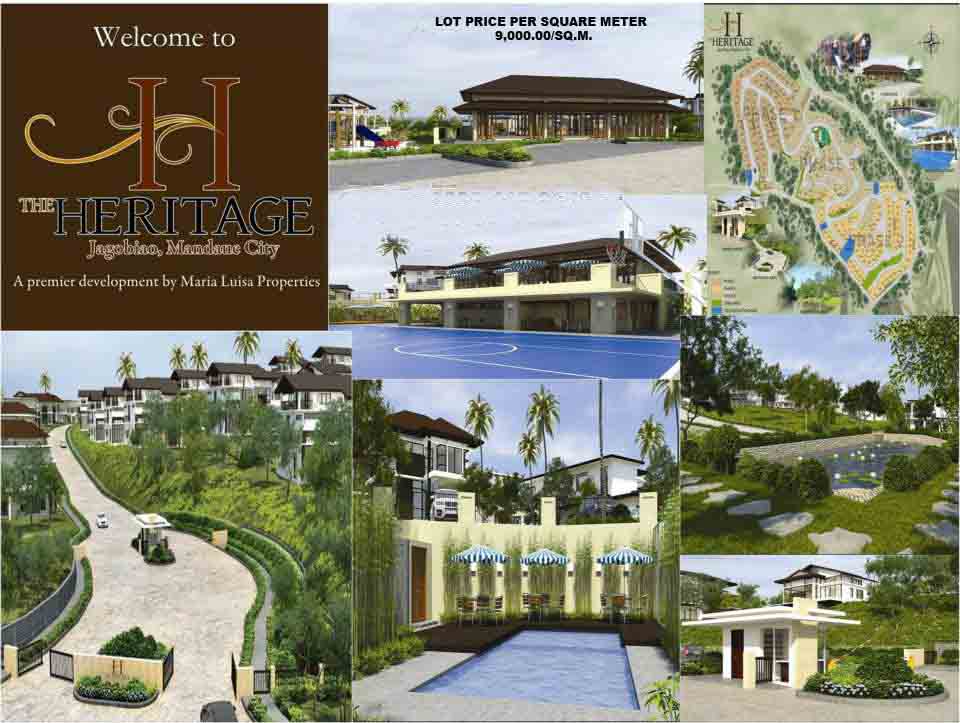 DISTANCE FROM ACCESS ROAD TO:

MALLS
SM Consolacion 1.9km
Gate 2 to Fooda 1.2km
Gaisano Grand Mall 5.5km

SCHOOLS
Ateneo de Cebu 3.4km
USC 6.9km
Woodridge 7.5km
Bright Academy 7.5km
Paref Southcrest 7.8km
CIS 7.4km

HOSPITALS
Gullas Hosp 7.6km
North Gen Hosp

MARKET
Gate 2 to Consolacion Market 1.4km
Market 2.9km
Tintay s Market 3.9km

CHURCH
Gate 2 to San Narciso Church 1.7km
Our Lady of Fatima

Gate 1 to Highway .6km

3 Phases
Phase 1 = 29, 816 sq. m; No. of saleable lots = 97 lots
Phase 2 = 27, 595 sq. m; No. of saleable lots = 87 lots
Phase 3 = 23, 948 sq.m; No. of saleable lots = 62 lots


FOR SALE ( Titled Lot )
( Your getting an advantage of lower price )

LOT PRICE PER SQUARE METER:
10,200.00/SQ.M.


FREQUENTLY ASKED QUESTIONS
1.) Where is it located?
Located in Jagobiao, Mandaue City and Tugbongan Consolacion
2.) Where are the access points to the subdivision?
Jagobiao National High School
Fooda Supermarket in Consolacion, SM Savemore Mandaue &
Consolacion Public Market
3.) How much is the investment per square meter?
Investment starts at Php 9,000.00 per square meter
4.) What is the required minimum value of houses to be built?
Minimum cost of residential house is Php2.5 million.
5.) Is there a maximum building height? What are the easement requirements?
Maximum building height is 9 meters from the highest elevation point.
The property is subject to an easement of 3 meters at the front and 2 meters
on the sides and rear.
6.) What Type of Materials and Architectures are required?
All buildings must be of strong materials and of the type of architecture that is
in harmony with the surrounding landscape and homes in the vicinity.

FINANCING
1.) Is there a Reservation Fee?
YES. It s Php30,000.00, good for 15 days, non-refundable & non-transferable.
This will form part of the total contract price.
2.) What Financing Schemes do you have?
* CASH
*BANK LOAN FINANCING
*IN-HOUSE FINANCING
30% Downpayment / 24% Downpayment
70% Balance (payable up to 3 years) / 76% Balance (payable up to 3 years)

DOCUMENTATION
1.)
Do all your lots have clean Titles?

Yes. We don't sell lots that are not titled.
And we guarantee that all our titles are free from liens and encumbrances.
2.) How long will processing of individual titles take?
From Deed of Absolute Sale (DAS) it takes 5 to 6 months
3.)When can I build my home in "The Heritage"?
Full payment is required before you can start building your home.
Actual Development and Perspective Amenities ( Pls. click to zoom )
actpic2
actpic14
actpict5
actpict10
actpict11
actpict16
actpict17
basketball court
clubhouse
entrance gate
pool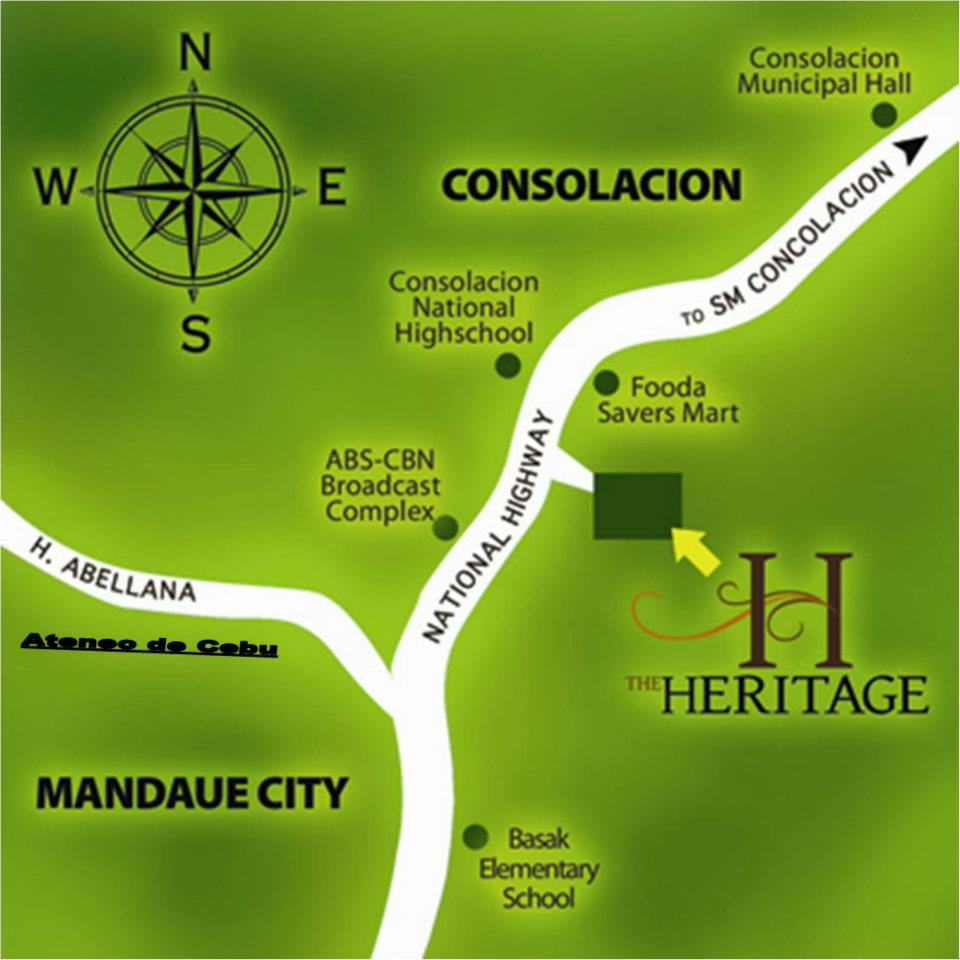 LOT LEGEND AND DESCRIPTION:
el Elevated
elc Elevated Corner
elssd Elevated-Slightly Slops Detached
essea Elevated-Slightly Slops Facing East
elw Elevated w/ View
elva Elevated w/ view near Amanities
elvc Elevated w/ View Corner
eleva Elevated w/ Vew Corner near Amenities
elvea Elevated w/ View Facing East
elveaca Elevated w/ View Facing East Corner Amenities
elvps Elevated w/ View Partially slops
elvsfe Elevated w/ View Slops Facing East
f Flat
fa Flat Near Amenities
fc Flat Corner
fcea Flat Corne Facing East
selc Slightly Elevated Corner
PLS. CLICK THE MAP BELOW TO MAKE IT LARGER VIEW! ( Updated as of MARCH 20, 2015 )
Only All Titled Lots For Sale!

CLICK HERE for the HOUSE CONSTRUCTION RESTRICTION.
The heritage offers Lot only for sale in mandaue, cebu as new kind of development by ma. luiza park developer in Mandaue City, Cebu, Philippines. Located 7 mins. away from Ateneo de Cebu, 5 mins from Sm Savemore Mandaue, 7 mins away from SM Consolcaion & 10 mins away to University of San Carlos Talamban.
NOTE: The tentative subdivision monthly due is about Php 1.50 per square meter.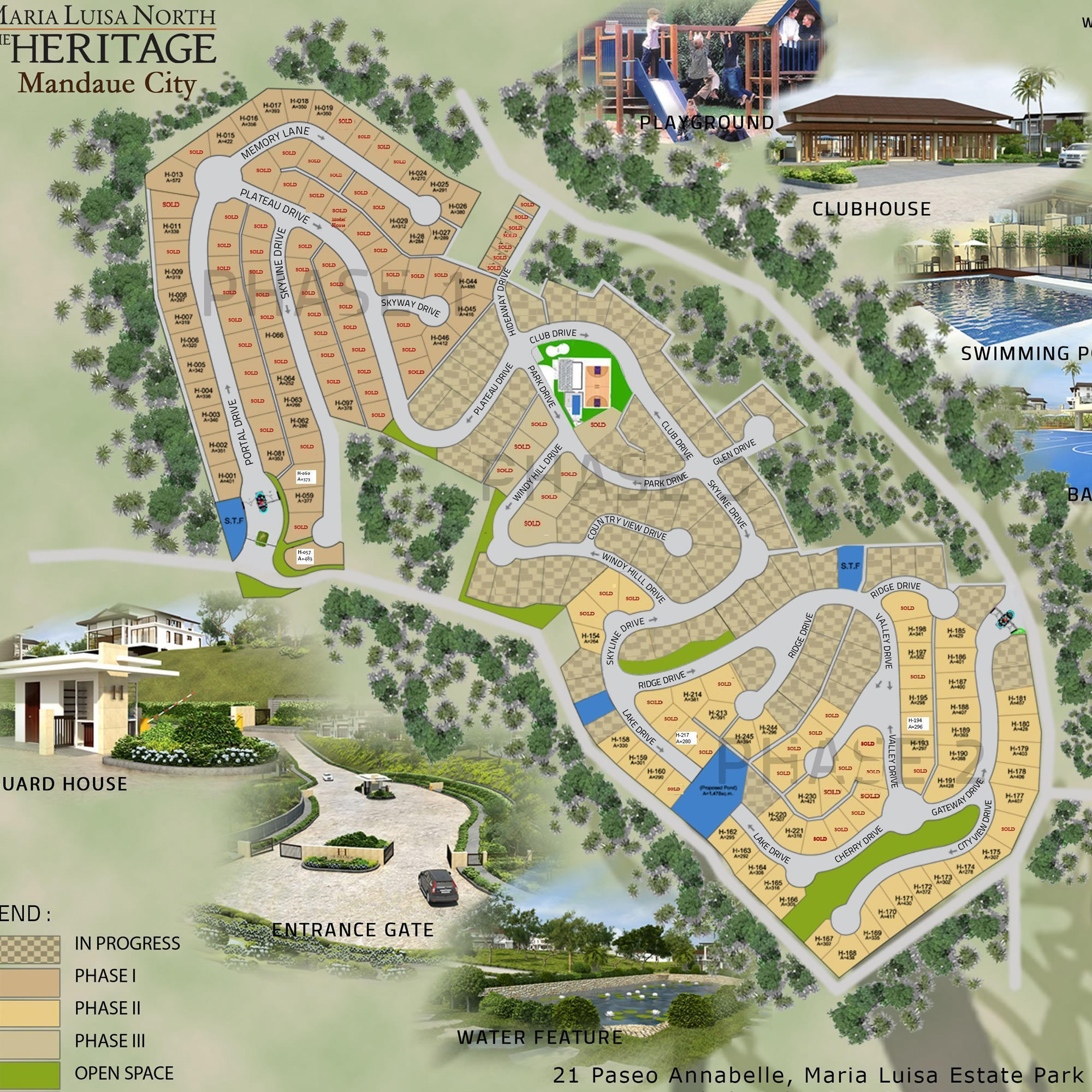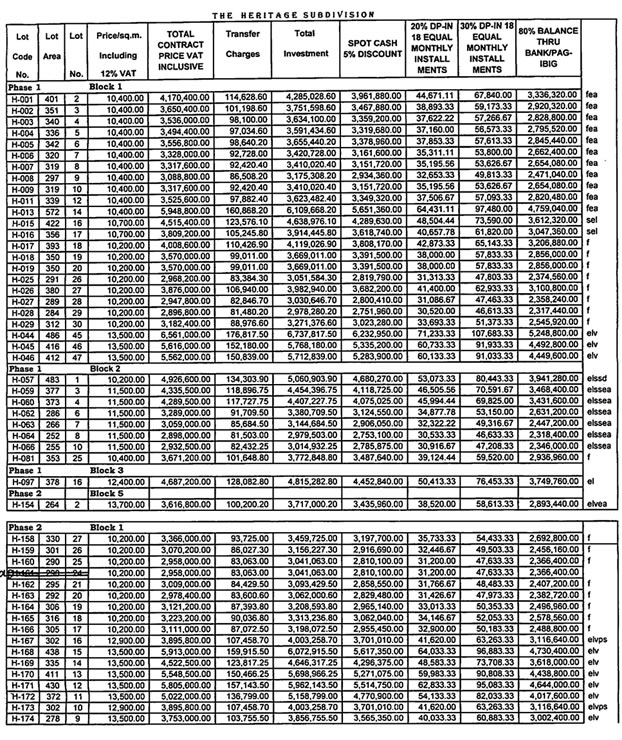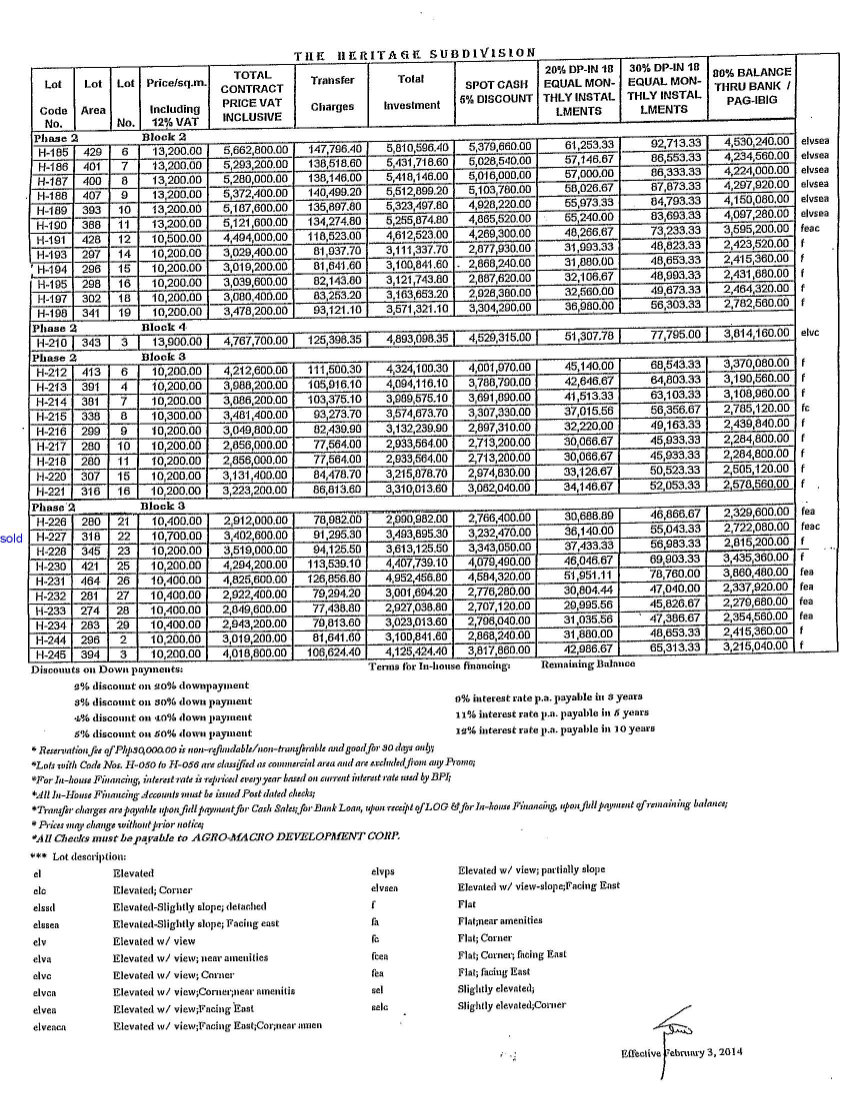 Updated as of MARCH 20, 2015
IMPORTANT REMINDERS:
WE DON'T HAVE RENT TO OWN IN CEBU ANYMORE. FOR THE CHEAPEST CEBU
R
EADY
F
OR
O
CCUPANCY, YOU NEED TO SECURE AT LEAST PHP 400,000.00 CASH ON HAND TOGETHER WITH LOAN GUARANTEE COMING FROM BANK/PAG-IBIG IF YOU LIKE TO MOVE IN THE UNIT RIGHT AWAY.
FOR BUYER'S WHO CAN'T AFFORD YET TO BUY THE
RFO
UNIT I MAY SUGGEST TO PREFER GET THE PRE-SELLING ONE, DUE TO LONG TERM EQUITY/DOWNPAYMENT THAT SURELY YOU CAN AFFORD IT. ONCE THE THIRD MACTAN BRIDGE WILL BE FINISHED BY YEAR 2022 ABSOLUTELY ALL REAL ESTATE PROPERTIES IN CEBU BECOME VERY EXPENSIVE AND THE POSSIBILITY OF NO MORE HOUSING SUBDIVISION, ONLY CONDOMINIUM MAY THE PROJECTS DURING THAT TIME
.
20 YEARS OF SOLID SELLING EXPERIENCED WITH GOOD TRACK RECORD AS ONE OF THE TOP SELLER IN CEBU!
"FOR FREE COMMON SITE TRIPPING VEHICLE THE BUYER MUST INFORM ME AT LEAST ONE DAY AHEAD ( using develpoer's vehicle). FOR A PERSONAL AND EXCLUSIVE SITE TRIPPING BUT THE BUYER DON'T HAVE CAR, HE/SHE MIGHT PAY THE MINIMAL COST OF FUEL EXPENSES ( to be refunded once will reserve a unit ) EXCLUSIVE SITE VIEWING."
BE AWARE OF THE PRICE HIKE IF YOU CAN'T RESERVE NOW!
I'M NOT OVERPRICING HERE FOR 19 YEARS!
Provider For All Types Of Affordable Cebu Real Estate Properties, House and Subdivisions, Lowcost Housing and Condominiums For Sale!