VISTANA RESIDENCES - CEBU CONDOMINUM FOR SALE
Junquera extension St., Cebu City
Actual Building Constructed ( 6 months ago )
Vistana Residences 8 Storey Cebu Condominium For sale

Cebu City itself in this time is very progressive and developed that's why searching home for living is too expensive. Mostly people coming from Visayas and Mindano area choose Cebu as their priority destination especially for those who are looking jobs or standard schools. Vistana Residences build and design for practical home living due to its proximity and accessibility. There's no reason to live a life of comfort and convenience at a price you never thought possible.
FEATURES AND AMENITIES

* 24 Hour Security System
* Standby Generator Set
* High Speed Elevator
* Studio & 1 Bedroom design
* Overhead Water Tank
* Rood deck Multi-purpose
& open-air common area
* Wi-fi zone of entire building
STUDIO UNITS:
Floor Area: 18 sq.m. - 22 sq.m.
Price Range: PhP 841,550.00 - 1,567,300.00

4th Floor Unit Number: 4B

Floor Area: 48.56 square meter

Total Contract Price: Php 1,516,224.00
Reservation Fee: 30,000.00


30% DOWNPAYMENT: 6 mos. to pay 0 int.
@70,811.20 per month

70% BALANCE LOANABLE: Php 1,061,356.00
Estimated Sample Computation
BDO BANK FINANCING:
5 years to pay - 21,519.50/mo.

Net income required is 64,558.50/mo.

10 years to pay - 14,026.00/mo.

Net income required is 42,078.00/mo.

15 years to pay - 12,230.50/mo.

Net income required is 36,691.50/mo.

20 years to pay - 11,318.65/mo.

Net income required is 33,955.95/mo.


PAG-IBIG FINANCING:
5 years to pay - 18,869.20/mo.

Net income required is 47,173.00/mo.

10 years to pay - 13,149.75/mo.

Net income required is 32,874.37/mo.

15 years to pay - 10,451.20/mo.

Net income required is 26,128.00/mo.

20 years to pay - 9,210.70/mo.

Net income required is 23,026.75/mo.

25 years to pay - 8,546.50/mo.

Net income required is 21,366.25/mo.

30 years to pay - 8,160.90/mo.

Net income required is 20,402.25/mo.
Location:
It is in the center of Cebu nearby to University of San Carlos, Cebu Velez College, University of San Jose Recoletos ,
University of Cebu, Cebu Doctor s Hospital, Chung Hua Hospital, Robinson Department Store,
Elizabeth Mall and other business establishment in the city.
Vistana Residences offers investment opportunity assurance for its strong leasing potential brought about year-round
of tenants demand.
Great advantages for student and young professional as this 8 storey residential condominium of cebu, offers
affordable studio unit type to complete with lifestyle amenities and an selection of retail shop all around in just a min. away.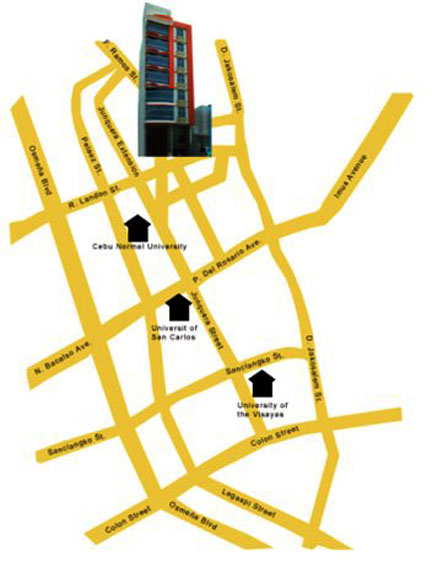 Imagine living far from the city is taking its much expensive on you.. Ever considered a residential studio type that is very accessible on every side of the city.. Vistana Residences located at Junquera Extension will provide you and your love one an easier and more practical kind of comfrotable living.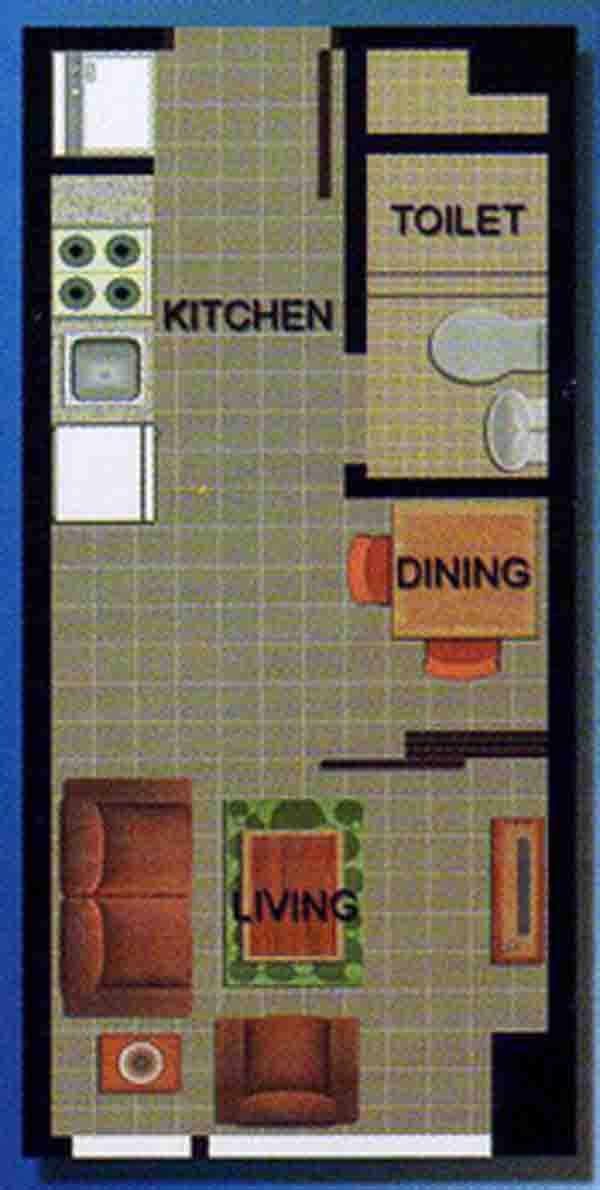 STUDIO UNIT:
Floor Area: 18 sq.m. - 22 sq.m.
Price Range: PhP 841,550.00 - 1,567,300.00

Payment Terms:
Reservation Fee: PhP 30,000.00

30% of the Price is payable for 6 months at 0% interest

70% remaining balance can be paid through Bank Financing or Pag-ibig Laon

Perfect for investors and young proffesionals, career driven couples on their way to success,

Vistana Residences in Cebu is blessed with comfort, convenience, illustrios location and affordability.

Where the best leisure destinations are at your command.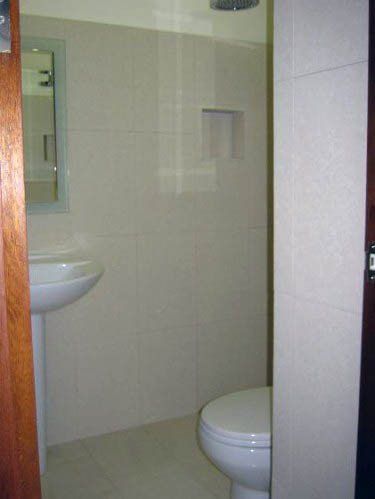 URBAN

LIVING

IN

CEBU

CITY...

EXPERINCE

YOUR

BETTER

LIFE

AND

CONVENIENCES!
QUALITY

COMFORTABILITY

AND

AFFORDABILITY

OF

VISTA

RESIDENCES

RESIDENTIAL

CONDOMINIUM

IN

CEBU

CITY...

ACTUAL PICTURE TAKEN...SOON TO BE READY FOR OCCUPANCY!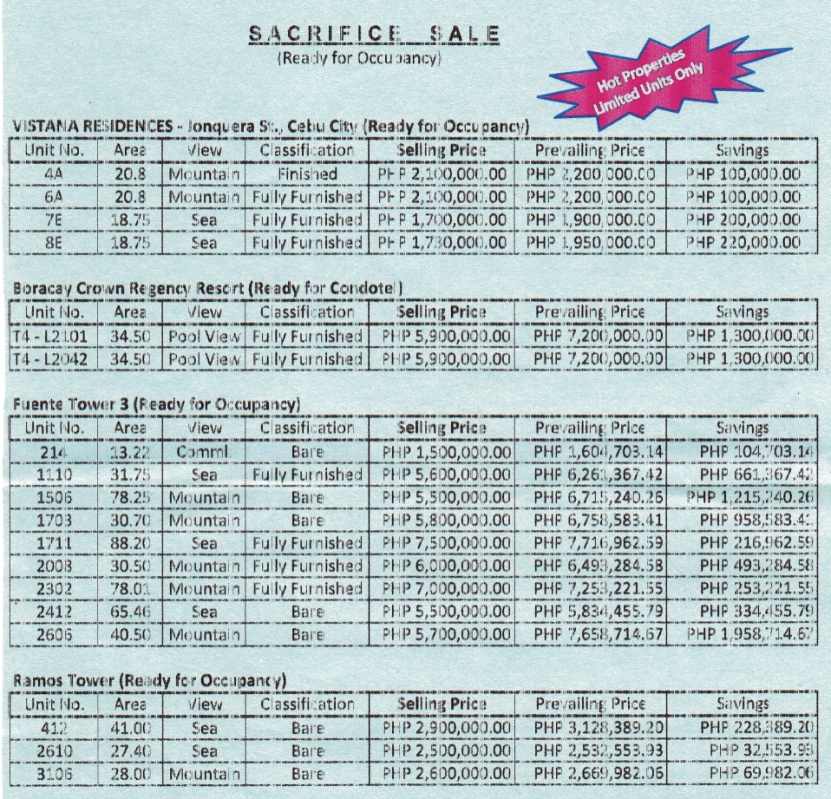 UPDATED AS OF: JULY 22, 2013
PLS. REFER THE UPDATED PRICELIST BELOW FOR JULY 22, 2013!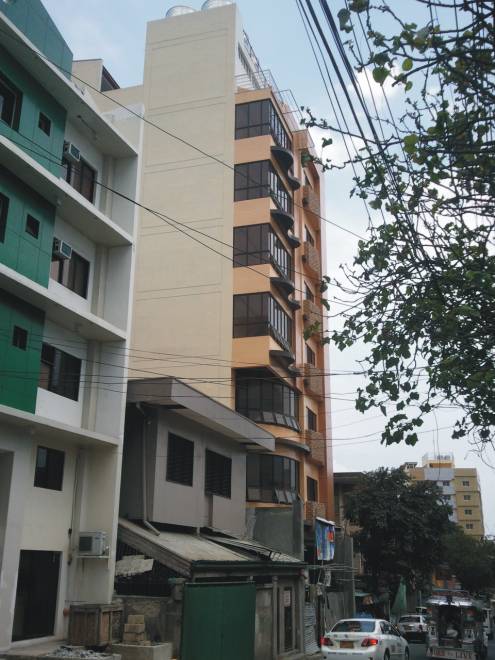 IMPORTANT REMINDERS:
WE DON'T HAVE RENT TO OWN IN CEBU ANYMORE. FOR THE CHEAPEST CEBU
R
EADY
F
OR
O
CCUPANCY, YOU NEED TO SECURE AT LEAST PHP 400,000.00 CASH ON HAND TOGETHER WITH LOAN GUARANTEE COMING FROM BANK/PAG-IBIG IF YOU LIKE TO MOVE IN THE UNIT RIGHT AWAY.
FOR BUYER'S WHO CAN'T AFFORD YET TO BUY THE
RFO
UNIT I MAY SUGGEST TO PREFER GET THE PRE-SELLING ONE, DUE TO LONG TERM EQUITY/DOWNPAYMENT THAT SURELY YOU CAN AFFORD IT. ONCE THE THIRD MACTAN BRIDGE WILL BE FINISHED BY YEAR 2022 ABSOLUTELY ALL REAL ESTATE PROPERTIES IN CEBU BECOME VERY EXPENSIVE AND THE POSSIBILITY OF NO MORE HOUSING SUBDIVISION, ONLY CONDOMINIUM MAY THE PROJECTS DURING THAT TIME
.
20 YEARS OF SOLID SELLING EXPERIENCED WITH GOOD TRACK RECORD AS ONE OF THE TOP SELLER IN CEBU!
"FOR FREE COMMON SITE TRIPPING VEHICLE THE BUYER MUST INFORM ME AT LEAST ONE DAY AHEAD ( using develpoer's vehicle). FOR A PERSONAL AND EXCLUSIVE SITE TRIPPING BUT THE BUYER DON'T HAVE CAR, HE/SHE MIGHT PAY THE MINIMAL COST OF FUEL EXPENSES ( to be refunded once will reserve a unit ) EXCLUSIVE SITE VIEWING."
BE AWARE OF THE PRICE HIKE IF YOU CAN'T RESERVE NOW!
I'M NOT OVERPRICING HERE FOR 19 YEARS!
Provider For All Types Of Affordable Cebu Real Estate Properties, House and Subdivisions, Lowcost Housing and Condominiums For Sale!